Saratoga Springs Plastic Surgeon Maximizes Results of Cosmetic Injectables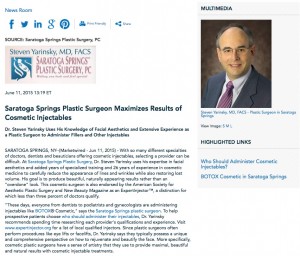 Dr. Steven Yarinsky uses his knowledge of facial aesthetics and extensive experience as a plastic surgeon to administer fillers and other injectables.
Saratoga Springs, NY – With so many different specialties of doctors, dentists and beauticians offering cosmetic injectables, selecting a provider can be difficult. At Saratoga Springs Plastic Surgery, Dr. Steven Yarinsky uses his expertise in facial aesthetics and added years of specialized training and 26 years of experience in cosmetic medicine to carefully reduce the appearance of lines and wrinkles while also restoring lost volume. His goal is to produce beautiful, naturally appearing results rather than an "overdone" look. This cosmetic surgeon is also endorsed by the American Society for Aesthetic Plastic Surgery and New Beauty Magazine as an ExpertInjector™, a distinction for which less than three percent of doctors qualify.
"These days, everyone from dentists to podiatrists and gynecologists are administering injectables like BOTOX® Cosmetic," says the Saratoga Springs plastic surgeon. To help prospective patients choose who should administer their injectables, Dr. Yarinsky recommends spending time researching each provider's qualifications and experience. Visit www.expertinjector.org for a list of local qualified injectors. Since plastic surgeons often perform procedures like eye lifts or facelifts, Dr. Yarinsky says they typically possess a unique and comprehensive perspective on how to rejuvenate and beautify the face. More specifically, cosmetic plastic surgeons have a sense of artistry that they use to provide maximal, beautiful and natural results with cosmetic injectable treatments.
While injectables are a popular non-surgical treatment to prevent the onset of fine lines and wrinkles, each type has a unique way it achieves a youthful appearance. As a result, the use and benefits of using facial fillers versus other injectables depend on the cosmetic concerns each patient wishes to address. Facial fillers, for example, are designed to replenish or simply add volume to areas of the face to achieve a more youthful appearance. Other injectables, like BOTOX® Cosmetic, are commonly used to relax the underlying facial muscles for smoother forehead "worry lines", and to produce wrinkle-free skin in the crow's feet and between the brows.
Not all cosmetic injectable providers are equal. Each of the non-surgical injectable treatments is designed for a unique purpose. Dr. Yarinsky takes the time during his consultation process to create an individualized facial rejuvenation treatment plan recommending the most beneficial options for each person. With the right combination of injectables, Dr. Yarinsky says he can provide a "liquid facelift" that can help his patients to look 5-10 years younger without the need for surgery.
About Steven Yarinsky, MD, FACS
Dr. Yarinsky is a cosmetic medicine and surgery expert who earned his medical degree at SUNY Upstate Medical Center in Syracuse before completing a five-year general surgery residency at Ohio State University Hospital, Columbus and Marshall University Medical School. Dr. Yarinsky then trained in cosmetic and reconstructive surgery for two years at the Medical College of Ohio in Toledo. He is a Diplomate of the American Board of Plastic Surgery and a Fellow of the American College of Surgeons, as well as an active member of the American Society for Aesthetic Plastic Surgery, the American Society of Plastic Surgeons and the Northeastern Society of Plastic Surgery. Dr. Yarinsky is available for interview upon request.
To learn more about Saratoga Springs Plastic Surgery, PC, visit yarinsky.com or https://www.facebook.com/DrYarinsky/.
Contact:
Saratoga Springs Plastic Surgery, PC
7 Wells Street
3rd Floor
Saratoga Springs, NY 12866
(888) 884-4448
(518) 290-1919
Rosemont Media
(858) 200-0044
www.rosemontmedia.com
Previous Post
Next Post