Liposuction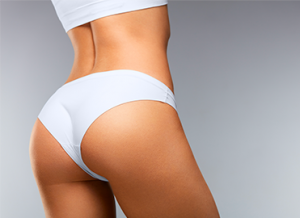 The hips, buttocks, and abdomen are areas of the body that are commonly resistant to diet and exercise efforts. Men often choose liposuction to reduce fatty, enlarged breasts. The lower cheeks, jowls and upper and mid neck or "submental" area may also be fuller than one desires from the presence of unwanted fat. Even women and men who lead an active, healthy lifestyle often struggle with isolated pockets of stubborn fat. With liposuction, our Saratoga Springs plastic surgeon, Dr. Steven Yarinsky, can alleviate this frustration and help you attain a more toned and sculpted figure and slimmer face and neckline.
What Is Liposuction?
The new tumescent liposuction procedure can remove unwanted fat cells from the hips, thighs, and buttocks as well as other areas of the body. This body contouring procedure is not intended for dramatic weight loss. Liposuction is designed to target specific areas of the body that have proven resistant to more traditional methods of fat reduction. The results are noticeable almost immediately, and there is minimal recovery time associated with this procedure.
I consulted with 3 different practices. None of the others were as informative or caring as you folks. I left the other places with more questions than answers and the feeling that I had taken up too much of the doctor's time. I left Saratoga Springs Plastic Surgery feeling like I could make an informed decision and would be in good hands.
What Is LipoPerfection?
LipoPerfection is considered the next generation of liposuction. This advanced liposuction technique uses an extra step of applying high-intensity ultrasonic energy to the surface of the skin in the targeted treatment area for 3-6 minutes before an incision is made. With this unique process, LipoPerfection softens the fat cell layer located beneath the skin and disperses the "tumescent solution" injected prior to ultrasound application to make the procedure almost bloodless. But most importantly, LipoPerfection can "shrink-wrap" and tighten the overlying skin at the liposuction site, offering a significant advantage over more traditional liposuction techniques.
What Are the Benefits of Liposuction with LipoPerfection?
Dr. Yarinsky is one of only 13 plastic surgeons nationwide who uses the LipoPerfection technique, which can provide his patients many unique clinical and aesthetic benefits, including:
Protection of the skin and underlying nerves and blood vessels at the treatment site
Faster recovery with less bruising and discomfort
Earlier return to normal routine
Lower risk of postoperative complications
Better overall result for liposuction as a result of the overlying skin tightening effect
After the liposuction procedure, you will likely notice an improvement in the contour of the treated area or areas. In addition to achieving a more flattering figure or physique, many patients report that clothing fits better and that they have a boosted sense of confidence.
Who Is a Good Candidate for Liposuction with LipoPerfection?
Most liposuction candidates have excess fat in one or more areas such as the face, neck, upper arms, chest, trunk, abdomen, waist, hips, thighs, knees and ankles. Ideal candidates for liposuction are already at or near their target weight, usually within 20-30 pounds of their "ideal body weight." Candidates should also be in good overall health, eat a nutritious diet, and exercise regularly. Liposuction is not a weight loss technique for treating obesity since the most fat that can safely be removed at one time is less than 10 pounds. However, the typical liposuction treatment removes much less than that and you may not even notice a weight change on the scale. But your clothing should fit better and you should definitely notice an improvement in your body contour/shape.
How Is the LipoPerfection Procedure Performed?
Dr. Yarinsky's office is the only one in the Capital District, Upstate New York, Vermont and Western Massachusetts using the LipoPerfection external ultrasound assisted technique. The ultrasound energy is used to liquefy unwanted fat, allowing for easier removal, small incisions, and less bleeding. LipoPerfection also shrink wraps or tightens the overlying skin. Small suction tubes (cannulas) are inserted through the very short incisions placed in inconspicuous locations near the fat deposits, and excess fat is removed by vacuum aspiration. The procedure is done in Dr. Yarinsky's office facility as an outpatient procedure using local, intravenous, or general anesthesia. The procedure can typically be completed within two to three hours depending upon the amount of fat to be removed and the number of areas treated.
What Is Liposuction with LipoPerfection Recovery Like?
As with most surgical procedures, patients can expect mild bruising, swelling, or soreness. These side effects can be managed with oral pain medication and should resolve quickly. The LipoPerfection ultrasound treatment helps to tighten your skin like "shrink-wrap" so that the compression garment may be worn for 3-4 weeks instead of the standard 6 weeks. Patients should also experience less postoperative discomfort and bruising as well as attain a smoother contour with this new method. The results may be more noticeable than those seen with standard liposuction.
How Long Do Liposuction Results Last?
Since fat is removed during the liposuction procedure, results are typically long-lasting. Although these cells cannot regenerate, the remaining fat cells in the treated area can grow in size with weight gain. As a result, Dr. Yarinsky advises his liposuction patients to maintain a healthy lifestyle with diet and exercise to help prevent their results from being compromised.
What Are the Risks of Liposuction?
The specific risks and the suitability of liposuction for you can be determined only at the time of your consultation with Dr. Yarinsky. The most common risks are contour irregularity and asymmetry. All surgical procedures have some degree of risk. Minor complications that do not affect the outcome occur occasionally. Major complications are unusual. Most people are very happy with the results but no specific result can be guaranteed. The less common risks will be outlined at your consultation with Dr. Yarinsky
How Much Does Liposuction with LipoPerfection Cost?
Each liposuction procedure is customized by Dr. Yarinsky to achieve your individual goals. There are many factors that can impact the total cost of liposuction with LipoPerfection, including which area or areas are being treated, the volume of excess fat to be removed, and whether liposuction is combined with additional procedures. Since there are so many variables, a firm fee estimate can only be given after a medical and physical evaluation at your consultation appointment with Dr. Yarinsky.
The average cost of liposuction ranges from $2,500 to $8,500 for the surgeon's fee. After Dr. Yarinsky has determined your specific needs and created a personalized treatment plan, you will be provided with your complete liposuction costs, including the surgeon's fee, anesthesia fee, and other related fees for use of our fully accredited office surgery center. We provide you with a "Global Fee" which covers everything except for your prescription medication, lab work (if needed) and preoperative medical clearance (if needed). For our patients who might benefit from low monthly instalment plans with little to no interest, we offer a number of plastic surgery financing options. To learn more information about financing the cost of your liposuction procedure, please contact a member of our staff today.
Additional Frequently Asked Questions About Liposuction
How Old Do You Have to Be to Get Liposuction?
Dr. Yarinsky typically only recommends liposuction for candidates over the age of 18. However, every patient will first need to be evaluated to determine if the procedure is appropriate for their needs and if they have realistic expectations for their outcome.
How Much Fat Can Be Removed with Liposuction?
To ensure patients' safety, no more than 10 pounds can usually be removed during one liposuction session. Please remember, the procedure should not be considered a weight loss technique, and is only appropriate for reducing isolated fat deposits that have not responded to diet and exercise.
How Can I Reduce Swelling After Liposuction?
Swelling is a normal part of the healing process after a surgical procedure such as liposuction. Dr. Yarinsky uses the LipoPerfection technique, which uses a smaller cannula that helps reduce trauma and can help minimize swelling. To further manage any swelling you experience, you should wear your post-operative compression garment as instructed. Light physical activity is also encouraged to promote blood flow as is endermologie® treatment. Over time with proper care, swelling should fade and the 90% result is typically seen 6 weeks after the procedure.
Will I Have Loose Skin After Liposuction?
Loose skin is a common concern with patients considering liposuction. By using the advanced LipoPerfection technique, Dr. Yarinsky can produce highly natural-looking contouring results. The LipoPerfection ultrasound treatment works to tighten the skin, which also reduces the amount of time needed after surgery to wear the compression garment. To further promote a toned-looking result, Dr. Yarinsky often recommends treatment with endermologie® after liposuction. However if skin is too loose, a skin removal or tightening procedure may be recommended. See the "other options" listed below.
Other Options for Combined Procedures
Additional procedures that may enhance your result and can be done at the same time, often part of a Mommy Makeover, are tummy tuck, breast reduction, breast augmentation, breast lift, thigh lift, or buttock lift. Endermologie treatments starting several weeks after liposuction can dramatically improve the results by minimizing the appearance of contour irregularities and improving cellulite. We recommend endermologie treatments for all of our liposuction patients. All of these procedures are safely done at our Joint Commission accredited office facility.
Contact Us
For more information about liposuction or to arrange your private consultation with Dr. Yarinsky, please contact our office.