Eyebrow and Forehead Lift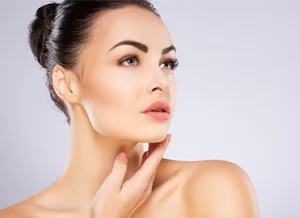 An eyebrow lift, also referred to as a brow lift or forehead lift, worry and tension lines on the forehead are softened and the brow is raised to provide a more youthful, energetic appearance. This procedure is often included with a facelift and/or eyelid surgery.
The scars may be at or hidden behind the hairline. The muscles that produce the frown lines are removed and the eyebrows are positioned at a higher level. This improves a "tired" or "angry" look and often replaces the need for an upper eyelid lift by improving upper eyelid skin hooding. Dr. Steven Yarinsky can significantly rejuvenate areas of the upper face with this effective procedure.
Please contact our practice to schedule a consultation for eyebrow and forehead lift surgery.
Who is a Candidate?
You have loose skin on your forehead causing drooping brows or deep forehead creases.
You have deep vertical furrows between the eyebrows (frown lines) causing a harsh or tired appearance.
Individual Results May Vary
Love the staff –feel I made the best choice possible by choosing Dr. Yarinsky.
Intended Result
A more youthful and rested appear to your forehead and eyebrows.
Frown lines are eliminated or softened
Procedure Description
The procedure is done in Dr. Yarinsky's office using local anesthesia with sedation or general anesthesia.
Incisions are placed at the hairline or a longer incision may be used traveling across the scalp from ear to ear.
Your forehead skin is lifted and repositioned. The muscles that cause frown lines are weakened by removing part of them Your eyebrows elevated.
Recuperation and Healing
Your head is wrapped in dressings, which are usually removed on the second or third day after surgery. We will shampoo your hair at your first post-op visit.
Discomfort is easily controlled with oral medication.
Sutures are removed within two weeks.
Most swelling and bruising is gone in 2-3 weeks and can be hidden with cover up cosmetics.
Other Options
Additional procedures that may enhance your result and can be done at the same time are lower and/or upper eyelid lift, face lift, or other facial procedures such as laser skin resurfacing or cheek and/or chin implants.
Note
The specific risks and the suitability of this procedure for you can be determined only at the time of your consultation with Dr. Yarinsky. All surgical procedures have some degree of risk. Minor complications that do not affect the outcome occur occasionally. Major complications are unusual. *Most people are very happy with the results but no specific result can be guaranteed.
This procedure is done at our Joint Commission accredited office facility.