Plastic Surgeon Steven Yarinsky, MD, FACS
What Is a Plastic Surgeon?
A plastic surgeon is a doctor who has undergone years of additional specialty training in cosmetic and reconstructive surgery following their general surgery residency. This additional focus on plastic surgery provides physicians with a comprehensive understanding of the relationship between muscle, bone, skin, underlying organs and anatomy throughout the body. With this advanced knowledge, plastic surgeons are particularly skilled at correcting congenital defects, repairing physical trauma, and addressing your cosmetic and aesthetic concerns.
Meet Dr. Yarinsky
Education & Training
After completing four years of undergraduate education at Dartmouth College, Dr. Yarinsky attended four years of medical school at SUNY Upstate Medical Center, Syracuse. During the next five years, he completed his general surgery residency at Ohio State University Hospital, Columbus and at Marshall University Medical School. Following general surgery residency, Dr. Yarinsky spent two years in intensive Cosmetic and Reconstructive Surgery residency training at the Medical College of Ohio. Fifteen years after high school, Dr. Yarinsky was trained and able to start his practice in Saratoga Springs. Plastic surgeons have one of the most lengthy and detailed residency training of any physician. You may not be aware of the fact that the best doctors continue their medical education long after medical school. Dr. Yarinsky dedicates over 150 hours every three years to continuing medical education and focuses his updates and ongoing training on Cosmetic Medicine. By doing so, he is able to perfect his techniques and learn about the latest cosmetic procedures to offer his patients the best possible results.
Dr. Yarinsky's extensive plastic surgery training and over 30 years of practical experience helping thousands of cosmetic surgery and cosmetic medicine patients gives you the added assurance that he is dedicated to helping you achieve the result that you desire.
Dr. Yarinsky and his staff are wonderful. Dr. Yarinsky's approach is sensitive and precise. I truly believe his is not only a great Doctor but, a true artist. I have always had a great experience with him and his staff from the moment you walk in the office the friendliness and professionalism is felt. I won't go elsewhere. I trust Dr. Yarinsky's skills and his vision. He is very approachable and explains in great detail what he is doing and the point of what he is doing.

charlene palfey

July 22, 2017

12345
Honors & Awards
He was selected each year as one of the "Top Plastic Surgeons" by Consumers' Research Council of America in 2010, 2011, 2012, 2013 and 2014; by Plastic Surgery Practice Magazine as one of the "Best Plastic and Cosmetic Surgeons" in the United States in 2013 and 2014; and by Saratoga Today readers for being one of the "Best of the Saratoga Region" as well as a "Best Plastic Surgeon" every year for eleven years straight from 2013 through 2023. Dr. Yarinsky was also named a "Top Doctor" by Castle Connolly every year since 2004 – a designation earned by less than 6% of all board certified plastic surgeons in the geographic region. Fewer still earn this honor for so many years!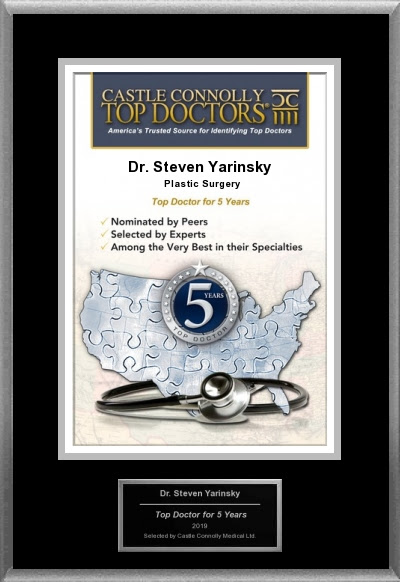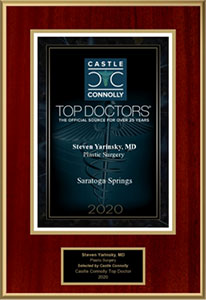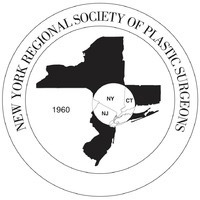 Professional Associations
Dr. Yarinsky is the only plastic surgeon located between Albany and Montreal to be elected and hold membership in The Aesthetic Society (formally the American Society for Aesthetic Plastic Surgery – ASAPS). The Aesthetic Society is recognized as the world's leading organization devoted entirely to aesthetic plastic surgery and cosmetic medicine of the face and body. Aesthetic Society members are board-certified plastic surgeons specializing in cosmetic medicine. The mission of the Aesthetic Society is to advance the science, art, and safe practice of aesthetic plastic surgery and cosmetic medicine through education, research, and innovation while maintaining the highest standards of ethical conduct. For all of Dr. Yarinsky's professional affiliations, see below:
The Aesthetic Society (formally the American Society for Aesthetic Plastic Surgery – ASAPS) (Member)
The American Society of Plastic Surgeons (Member)
New York Regional Society for Plastic Surgeons
Northeastern Society of Plastic Surgeons (Member)
Mensa, the High IQ Society (Member)
Ultra-Pulse Laser Skin Resurfacing (Certified)
Aesthetic Society Certificate of Advanced Education in Cosmetic Surgery (Certified)
The American Board of Plastic Surgery, Inc. (Diplomate)
The American College of Surgeons (Fellow)
Saratoga County Medical Society, Inc. (Member)
Medical Society of the State of New York (Member)
Why Choose a Board-Certified Plastic Surgeon and Member of The Aesthetic Society?
Cosmetic surgery and cosmetic medical care are offered by a variety of different professionals, many of whom are not necessarily adequately trained and qualified to perform the specific surgeries and procedures . To help ensure your physician is highly trained, abides by strict safety standards, and is experienced in cosmetic plastic surgery and cosmetic medicine procedures, choose a doctor who is board certified by the American Board of Plastic Surgery (ABPS) and is a member of The Aesthetic Society.
The ABPS is the only board recognized by the American Board of Medical Specialties (ABMS) that certifies plastic surgeons. To obtain certification from the ABPS, physicians must complete at least six years of accredited specialty training, with no fewer than three years dedicated to plastic surgery, and pass a rigorous exam process provided by the ABPS. Once the physician has achieved certification, they must maintain the routine certification standards, including the completion of continuing education and upholding high standards of care and safety.
In addition to looking for a plastic surgeon who is certified by the ABPS, you should seek a Member Surgeon of the American Society of Plastic Surgeons (ASPS). This status demonstrates the physician has maintained their ABPS certification, passed comprehensive examinations, and operates in accredited surgical facilities. If you want a plastic surgeon who specializes in Cosmetic Medicine, choose a member of The Aesthetic Society (formally the American Society for Aesthetic Plastic Surgery – ASAPS).
How to Select the Best Plastic Surgeon for You?
With so many plastic surgeons in practice, it can be difficult to know if you are selecting the right one. When conducting your research and deciding on a physician for your cosmetic medicine and cosmetic surgery needs, make sure they have the following credentials:
Certified by the American Board of Plastic Surgery. As detailed above, plastic surgeons certified by the ABPS far exceed the minimal requirements for plastic surgeons. This credential indicates their commitment to offering safe, high quality care.
Member of The Aesthetic Society. Recognized as the world's leading organization devoted entirely to aesthetic plastic surgery and cosmetic medicine of the face and body.
Experienced and skilled in the specific procedure being considered. To better understand the type of results you may achieve from a surgeon, take a look at their credentials, read patient testimonials, and view before and after photos of their patients who underwent the same procedure. They should show you before and after photos of actual patients they have treated so you can see what results are likely for you.
Performs surgery in an accredited facility. If the physician offers treatment in a private facility instead of a hospital, ensure the facility has been accredited by an organization such as the Joint Commission. The Joint Commission only accredits surgical facilities like Saratoga Springs Plastic Surgery, PC that abide by the highest safety and care "gold standards."
Helps you feel comfortable and confident. Over the course of your treatment, you will be communicating regularly with your surgeon—from your cosmetic surgery consultation through the end of your recovery and beyond. You should feel at-ease with them, knowing you can be honest and will receive transparent feedback.
If for any reason you did not feel comfortable with your plastic surgeon, don't hesitate to meet with others. The most important factor is that you feel safe and confident under their care. By choosing a plastic surgeon that applies to the above guidelines, you can rest assured you are being treated by a highly trained and qualified physician.
Questions to Ask Your Plastic Surgeon
To help you get to know a plastic surgeon and their qualifications, you will want to arrive at your consultation with some general questions to ask. During this visit, you may think of more questions you have, but having a basic list to start with will help ensure you cover the most important topics. By inquiring about the surgeon's expertise, their standards of safety, and what you can expect in your care, you can determine whether they are the type of surgeon with which you feel comfortable and confident. Below are examples of questions that you may want to ask at your consultation:
Are you board certified in plastic surgery?
How long have you been performing the procedure I'm considering?
Do you operate out of an accredited surgical facility?
What other medical professionals will be assisting with my procedure?
What type of anesthesia will you be using for my procedure?
What risks are typically associated with my procedure?
What results do you think I can realistically achieve?
Do you have before-and-after pictures of your patients who have had the same procedure?
What fees are involved with my plastic surgery procedure? What services are covered by these fees? Are there any "hidden" expenses?
As your questions are being answered, pay attention to how the plastic surgeon is responding. Are they promising you the outcome you want and failing to mention any risks? No results can be guaranteed, and all surgical procedures come with some degree of risk. This is why finding a qualified and experienced plastic surgeon is important, as they can customize your procedure according to your unique needs while ensuring the utmost safety and after-procedure care. As you consult with your plastic surgeon, make sure there is open communication at every step and that they are honest about the pros and cons involved.