Breast Lift with Implants (Mastopexy/Augmentation)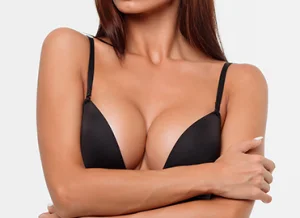 Weight fluctuations, breastfeeding, the natural aging process, and the effects of gravity can change the shape, volume, and overall appearance of your breasts over time. Diminished skin elasticity combined with the loss of breast volume can cause your breasts to droop or sag and appear deflated. By performing a breast lift with implants, Dr. Steven Yarinsky can rejuvenate your breasts and achieve a beautiful, youthful shape.
Some women think that an implant alone is all they need to rejuvenate their breasts. But after loss of breast volume seen after pregnancy, weight loss and aging, a skin tightening procedure may also be needed to achieve the best possible results. If an implant is placed alone in droopy breasts, it typically fills the upper part and the end result is called a "Snoopy" breast, because the lateral breast profile looks like the dog Snoopy's nose!
What Is a Breast Lift with Implants?
A breast lift with implants combines a traditional breast lift procedure with breast augmentation to simultaneously address volume loss and excess skin that may be causing your breasts to droop. By removing any excess or redundant skin, your breasts can be restored to a more elevated position. Adding implants then allows Dr. Yarinsky to further improve the projection and overall shape of the breasts and provide you with the larger volume that you desire.
What Are the Benefits of a Breast Lift with Implants?
There are a wide range of advantages that can be achieved by undergoing a breast lift with implants. These benefits may include:
Elevated position of the breasts on the chest wall
Resized smaller areolas and/or upwardly repositioned areolas and nipples
Increased breast volume
Improved symmetry between the breasts
Enhanced body proportions
A more "perky," youthful appearance with more upper breast cleavage or fullness
Many women who choose breast lift with implants also report a boost in self-confidence after their procedure.
I had my procedure in 2000 and I am still very happy with my results . This was a great choice for me and the entire team was great . I have sent 3 other people there who were also very happy ! Highly recommend this practice .

Kim Dubay

April 18, 2018

12345
Who Is a Good Candidate for a Breast Lift with Implants?
Candidates for breast lift surgery with implants typically wish to address several of the following concerns:
Sagging or drooping breasts
Enlarged areolas
Diminished breast volume
Asymmetrical breasts
Oftentimes, candidates for a breast lift with implants are mothers who wish to rejuvenate the appearance of their breasts after changes have occurred due to pregnancy and breastfeeding. In some cases, these patients choose to incorporate a breast lift with implants into a more comprehensive mommy makeover plan which may include liposuction done elsewhere and a tummy tuck to enhance their figure. Candidates should keep in mind that a future pregnancy may compromise the results of the procedure. Dr. Yarinsky recommends that women wait until they have completed their families, and are done having pregnancies, before doing a breast lift with implants to enhance the longevity of their results.
How Is the Breast Lift with Augmentation Procedure Performed?
Each breast lift with implants procedure is customized to meet the unique needs of the patient. The lift and augmentation are usually done on the same day at our Joint Commission-accredited office surgery facility. Dr. Yarinsky typically begins with the augmentation portion of the surgery. Once the implant is properly placed, any excess skin can be removed while the remaining skin and the nipple and areola are lifted to further support and shape the breast. Dr. Yarinsky will then repeat the same process on the other breast to achieve a balanced, symmetrical appearance. The breast lift with implants surgery is considered an outpatient procedure, is performed under general anesthesia, and can typically be completed in three to four hours.
What Is Breast Augmentation with a Lift Recovery Like?
As with any surgery, you can expect mild soreness, swelling, and bruising after having a breast lift with implants. Any postoperative discomfort can be easily managed with oral pain medication, and discomfort should quickly resolve over the course of a week or two. Dr. Yarinsky recommends that you wear a special compression bra which we supply after your surgery to aid in the healing process. The majority of our patients return to work or their normal daily activities within one week of their procedure. Lifting of heavy objects and strenuous exercise should be avoided for approximately four to six weeks, and swimming, tub bathing or hot tub use (submerging your breasts in water) for 8-12 weeks.
How Much Does a Breast Lift with Implants Cost?
There is no fixed cost for a breast lift with implants since every procedure is customized depending upon the patient's needs and expectations. The type of implant, the incision type, the location of the implant, and the overall complexity of the procedure, such as whether a partial or full breast lift is needed, can all impact the final price. At the end of your initial consultation, Dr. Yarinsky will provide you with a personalized quote for your custom procedure. Patients who could benefit from low monthly payment plans with little to no interest may take advantage of our flexible plastic surgery financing options.