Rhinoplasty – Nose Reshaping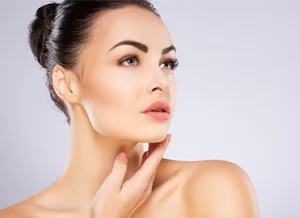 Surgery of the nose (rhinoplasty) is one of the most common cosmetic procedures performed on the face of patients of all ages, from the mid-teens and older, for both men and women. Whether you would like to alter the nose you were born with, or have had an injury to your nose that has altered its appearance, you can achieve dramatic improvement with rhinoplasty. This procedure helps refine the shape of your nose to better fit and enhance your other facial features. Every rhinoplasty procedure at Saratoga Springs Plastic Surgery, PC is custom-designed by board-certified plastic surgeon Steven Yarinsky, MD using his advanced surgical expertise and knowledge of facial aesthetics. He has provided nose reshaping for over 25 years. Dr. Yarinsky is committed to helping patients achieve results that look beautifully natural and improve the overall balance of their features.
Individual Results May Vary
Dr. Yarinsky and Staff, With heart full of thanks! I am very pleased with the results of my enhancement surgery. And I am even more thankful that I chose you as my doctor. Dr. Yarinsky, Holley, Scott and the rest of your staff are very professional and capable – I will not hesitate to return for future procedures or to recommend you for rhinoplasty (nose reshaping).
What Is Rhinoplasty?
Rhinoplasty is a surgical procedure designed to change the size or shape of your nose and enhance your overall facial harmony. Common parts of the nose that are reshaped with a rhinoplasty include the width of the nostrils, the slope of the ridge, the overall nose width, a prominent "hump,"  and the angle of the nasal tip. A large nose can be made more petite and feminine to better fit a woman's face. A man's large "ethnic" nose with a prominent hump can be made smaller to attract less attention and to achieve balance with the rest of the face. In some cases, a rhinoplasty is used to restore the shape of the nose after an injury. The internal component of  the procedure can open blocked breathing pathways to increase airflow for patients who have difficulty breathing.
What Are the Benefits of Rhinoplasty?
Dr. Yarinsky can customize each rhinoplasty to address a wide range of cosmetic concerns, depending upon the individual patient's needs. Rhinoplasty procedures are often used to accomplish one or more of the following:
Reshape or resize the nostrils
Reduce the size of the nasal tip
Reduce the overall size of the nose
Change the position of the tip of the nose
Smooth the ridge of the nose if a prominent "hump" is present
Straighten a crooked nose
Most patients report a boost in self-confidence after their nose reshaping procedure. The nose is so visible and such a focal point on your face, that if its new appearance satisfies you, you'll likely achieve a boost in your self-esteem. In addition to its cosmetic benefits, a rhinoplasty can also improve your nose's function and airflow by correcting a deviated septum or other blockages to the nasal passages.
Real Patients, Real Results
24 year old who desired a more refined nose tip, a narrower nose, and to reduce a mild "hump". Note that no scar is present across the columella (skin between the nostrils) since Dr. Yarinsky used incisions within the nostrils to reshape her nose.
Individual Results May Vary
Who Is a Good Candidate for Rhinoplasty?
Candidates for rhinoplasty often seek to cosmetically enhance their nose for a more symmetrical and proportionate appearance. By changing the size and/or shape of the nose, Dr. Yarinsky can improve the harmony with other facial features. Some candidates have nose abnormalities as a result of birth defects, injury, or disease. Other potential rhinoplasty patients may have noticed the size of their nose has increased with age and want to achieve a smaller, more youthful aesthetic appearance. If you are concerned with the appearance of your nose, the best way to discover if you are a good candidate for rhinoplasty is to schedule a consultation with Dr. Yarinsky.
How Is the Rhinoplasty Procedure Performed?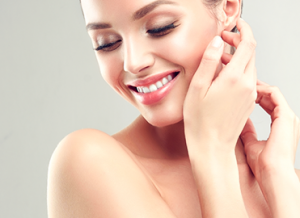 Rhinoplasty is usually done as an outpatient procedure in our Joint Commission-accredited surgical facility, ensuring your safety, comfort, and privacy. You will be sedated using either local or general anesthesia. Depending upon your customized treatment plan, Dr. Yarinsky will use one of two main approaches: standard (closed) or open rhinoplasty. Dr. Yarinsky was trained and is an expert in doing the standard "closed" rhinoplasty approach which leaves no external scars. The surgery can typically be completed in 1-3 hours.
Standard ("Closed") Rhinoplasty: Incisions are made inside the nostrils. The nasal bones, cartilage, and soft tissues are reshaped to improve the external contour. There are no visible scars. This is the most common type of rhinoplasty done by Dr. Yarinsky.
Open Rhinoplasty: Frequently used by many surgeons for all their nose reshaping patients and by Dr. Yarinsky for difficult or more involved nose reshaping. One external incision is made across the columella (skin and cartilage strut which is located between the nostrils). Bones, cartilage, and soft tissues are reshaped under direct vision. A visible scar will be present between the nostrils.
For cases in which only the nasal tip is enhanced (tip-plasty), Dr. Yarinsky may select either a standard/closed or open approach. If the patient wishes to reduce the size of the nostrils, two additional tiny incisions may be made at the outer base of the nostrils hidden within the creases.
For patients with obstructed airflow, the correction of a deviated septum (septoplasty) or turbinate (internal air baffle) reduction is often performed at the same time as any cosmetic enhancements to the nose to improve nasal breathing.
What Is Rhinoplasty Recovery Like?
Immediately following your rhinoplasty, an external plaster cast or splint is placed on your nose for protection and support of the nose bones and underlying structures. Soft splints or nasal packs are also typically placed inside the nose for up to five days. The cast or splint is usually removed within one week. If Dr. Yarinsky has used any external sutures, they will also be removed by a week; internal sutures will dissolve. Swelling and bruising are normal during the initial stage of recovery but should gradually subside over three weeks and the 90% result should be present by six weeks. Discomfort can be easily controlled with oral medication.
Most patients return to work or their normal daily activities within one to two weeks. At this time, you should be able to see significant improvements to the shape of the nose, and you should notice the results of your rhinoplasty continue to improve in the following months. The final result is typically seen after one year.
How Much Does Rhinoplasty Cost?
There is no one set cost for rhinoplasty. A number of factors can affect the price of your rhinoplasty, including the technique used in your custom surgical plan, the overall complexity of the operation, how long Dr. Yarinsky estimates the procedure will take to perform, the experience of your plastic surgeon, and the geographic location of the practice, and whether the procedure is done in the office operating room or hospital setting. It is always better to have your rhinoplasty done right the first time than to choose your surgeon based on cost alone. At the end of your initial consultation, Dr. Yarinsky will provide you with a quote for the cost of your procedure as well as any associated fees. Patients who are having a rhinoplasty performed to improve airflow may have a portion of the cost covered by their health insurance providers.  However, nose reshaping is most often considered "cosmetic" and, therefore, not covered by health insurance. All rhinoplasty patients may also take advantage of our plastic surgery financing options, which can offer low monthly payment plans with little to no interest.
Complementary Facial Procedures
Depending upon your personal cosmetic goals, there are additional procedures that may enhance the results of your rhinoplasty. For example, chin and cheek augmentation as well as facelift surgery and brow lift surgery to rejuvenate their appearance. During the consultation process, Dr. Yarinsky will perform a physical exam of the area(s) that bother you, examine your nose both externally and internally, thoroughly discuss your aesthetic concerns, and help you decide which procedure or combination of procedures can best meet your expectations.