Eyelid Surgery (Blepharoplasty)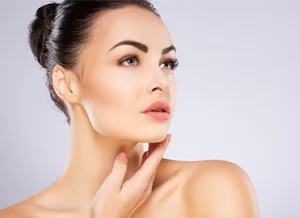 Your eyes are the most looked-at feature – the focal point – of your face. Tired droopy eyelids and prominent fat pads or "eyelid bags" hide the beautiful, youthful, rested appearance you would like others to see. At Saratoga Springs Plastic Surgery, PC, our plastic surgeon, Steven Yarinsky, MD, performs eyelid surgery at our in-office operating room facility to address your concerns with the appearance of your eyes.
What Is Blepharoplasty (Eyelid Lift Surgery)?
Blepharoplasty can enhance the appearance of your upper and lower eyelids by treating loose skin and prominent fat pads and hooding caused by excess skin to reveal a more youthful eye appearance. During this procedure, the upper lid excess skin may be trimmed and tightened with removal or reduction of the bulging fat pads located beneath. The puffy bags below your eyes can be removed through an incision located just beneath the lash line or hidden within the lower eyelids and loose lower lid skin can be tightened. You will gain a more refreshed, alert, and younger look. Some patients can also improve their eyesight when hooded excess upper eyelid skin is removed, eliminating visual obstruction and widening their field of vision.
Individual Results May Vary
"I wanted to have my upper lids done for years. However, after my consultation with Dr. Yarinsky and after meeting his amazing staff, I felt very confident and proceeded to have it done. I am so happy with the results. I would encourage anyone who is considering this surgery not to be afraid as Dr. Yarinsky is so skilled. My down time was very short and the care I was given prior to, during and after the procedure was top notch. This is the most caring and considerate group of people you will find. I am only sorry that I waited so long. I wanted to have my upper eye lids done for years but I was too afraid to do so. However, after my consultation with Dr. Yarinsky and meeting his wonderful staff, I decided to have the surgery. I am thrilled with the results. If you are contemplating this surgery do not hesitate. Dr. Yarinsky is so skilled. The care I received prior to, during, and after the procedure was top notch. Everyone was so caring. My down time was short and I am thrilled with the results."
Who Is a Good Candidate for Eyelid Surgery?
During your consultation with Dr. Steven Yarinsky, he will listen to your concerns, evaluate the skin, fat and other structures surrounding your eyes, and go over your medical history. This information will allow him to determine if eyelid surgery is the most appropriate option for helping you achieve your aesthetic beauty goals. Patients who can benefit from an eyelid lift typically exhibit the following:
Loose, excessive sagging or wrinkled upper or lower eyelid skin that creates a tired or angry look.
Excess upper eyelid skin that folds and causes hooding which may interfere with vision.
Lack of a natural upper eyelid crease.
Puffy pouches of fat in the upper or lower lids that create a tired or aged appearance.
What Are the Benefits of Eyelid Surgery?
Men and women who choose eyelid surgery often see a significant improvement in the appearance of their eye region. More specifically, patients can typically obtain benefits such as:
A more youthful and rested appearance of your eyes and face.
Improvement of sight if excessive upper lid skin has partially blocked vision.
Softened lines around the eyes (blepharoplasty does not remove or erase all wrinkle lines).
Since Dr. Yarinsky tailors each procedure to the unique concerns and needs of the individual, the specific benefits and extent of improvement that can be achieved will vary for every patient. Based on your own anatomy, Dr. Yarinsky will explain what result you can realistically achieve with your cosmetic surgical outcome to ensure you are fully informed about what to expect prior to your procedure
I would highly recommend Dr. Yarinsky and staff At Saratoga Springs Plastic Surgery .I am extremely happy with recent eyelid surgery.Staff is very caring,thoughtful and competent.Thanks to DR. Yarinsky and staff for changing my life.

John Kelly

July 08, 2014

12345
How Is the Eyelid Surgery Procedure Performed?
Eyelid surgery is usually performed in Dr. Yarinsky's Joint Commission accredited office facility. Local anesthesia with sedation or general anesthesia will be used to ensure your comfort throughout the procedure. The specific technique used for your surgery will be planned ahead of time and thoroughly discussed with you. Dr. Yarinsky strives to make incisions in areas that are easy to conceal and he shapes your eyelids to create an extremely natural appearance.
Upper Eyelid Surgery
For a typical upper eyelid surgery, incisions are made where the natural crease should be in the upper lids. Through this approach, Dr. Yarinsky is able to remove excess fat and skin that has begun to sag and tighten the remaining area to create a refreshed and more youthful appearance.
Lower Eyelid Surgery
To perform a lower eyelid surgery, the incisions are made just below the lash line of the lower lids in a natural crease, and excess fat and skin are removed. If only excess fat is present in the lower lids, it may be removed through an incision located inside of the lower lids with no external incision or scar (called a transconjunctival blepharoplasty).
Double Eyelid Surgery
Patients of Asian descent have a unique upper eyelid shape, known as a "single fold," where there is either no natural crease or it is at a lower level. Dr. Yarinsky performs this special type of blepharoplasty to create or enhance a "double eyelid," which can provide the larger eye appearance many people desire. This procedure involves reshaping or removing excess fat to produce the desired look.
What Is Eyelid Surgery Recovery Like?
All sutures are usually removed within one week.
Mild discomfort is easily controlled with oral medication.
Bruising and sensitivity to light last at least a week or two. Swelling improves in 2-4 weeks. Residual swelling may last several months.
Face and eye makeup can be used after sutures are removed to cover bruising.
Contact lenses can be worn when comfortable, usually within three weeks.
Your 90% point of recovery is at 6 weeks as in most cosmetic surgery procedures.
When Will I See My Eyelid Surgery Results?
Generally, the complete recovery process from eyelid surgery will take about 6 weeks or longer depending on the patient. In that time, bruising and residual swelling from surgery will dissipate and your end results will begin to gradually show. Keep in mind, however, that eyelid surgery will produce varying results for each individual patient as everyone has different healing potential and anatomy. Because of the unique nature of this surgery, the recovery process and the timeframe for when the final results are seen varies from one person to the next. Our team will be able to provide you with a more accurate recovery timetable at your initial consultation.
What Are Potential Complications from Eyelid Surgery?
The specific risks and the suitability of eyelid surgery for you will be outlined only at the time of your consultation with Dr. Yarinsky. All surgical procedures have some degree of risk. Minor complications that do not affect the outcome occur occasionally. Major complications are unusual. In rare cases, patients may find it hard to keep their eyes closed when they sleep, and they also may experience visible scarring due to an uneven healing and recovery process. Temporary dry eyes are not uncommon and there may be changes in vision which require a change in your contact lens or glasses prescription.
Most people are very happy with the results but no specific result can be guaranteed. This procedure is done at our Joint Commission-accredited office facility for your safety, privacy, convenience and comfort.
Can I Get an Eyelid Lift Without Surgery?
Although a surgical eyelid lift is the most effective way to significantly improve signs of aging in the eye area, patients not interested in surgery for drooping or sagging eyelids can seek out non-surgical alternatives. Some of the most beneficial eyelid surgery alternatives include cosmetic injectables, which can subtly tighten and recontour loose or excess skin that has developed on the eyelids. Our practice offers dermal fillers, like JUVÉDERM®, Radiesse®, and Restylane®, as well as neurotoxins like BOTOX® Cosmetic and Dysport®, which can smooth wrinkles by relaxing muscles. For those looking for non-invasive methods to remedy excess or loose skin around the eyelids, Ultherapy® and the Endermologie® Endermolift can both lift targeted areas of the skin that have lost stability over time, including your eyelids, by encouraging new collagen formation.
How Much Does Eyelid Surgery Cost?
The cost of either upper or lower eyelid surgery typically begins at $3,500 for the surgeon's fee. Since several factors go into the details of a patient's eyelid surgery, there is not one fixed cost for the procedure. You will need to schedule a consultation with Dr. Yarinsky to receive a detailed personalized quote for your custom eyelid surgery. This quote will also detail the associated fees involved, such as anesthesia and surgical facility costs. If you are interested in smaller, more manageable monthly payments, our patient care coordinators will provide you with plastic surgery financing options at your visit.
Complementary Procedures
Consider combining eyelid lift surgery with other rejuvenating procedures like a forehead lift, facelift, or laser skin resurfacing. By doing multiple procedures together on the same day, patients can enhance their final outcome, achieving a more noticeable rejuvenated appearance at a lower overall combination cost.
Schedule Your Eyelid Surgery Consultation
If you want to know more about eyelid lift surgery or believe you could benefit from the procedure, contact us today and schedule a consultation!