Facelift and Neck Lift
Face and neck lifting slows the signs of aging on the face by diminishing the effects of gravity. These procedures reduce excess fat, tighten underlying muscles, and re-drape the skin of your face and neck. A facelift and/or neck lift can be done alone or in conjunction with other cosmetic facial procedures such as a forehead lift, eyelid surgery or laser surgery for wrinkles. In many cases, Dr. Steven Yarinsky recommends patients combine the two procedures to achieve a more complete facial rejuvenation and fully address their cosmetic concerns. For more information, please read "10 Steps to a Successful Facelift" by Dr. Steven Yarinsky, or simply contact us to schedule a consultation for facelift or neck lift surgery.
"Dr. Yarinsky & Team, I truly appreciate everything you all have done! From the first time I stepped into your office I felt comfortable. You & your awesome staff are dedicated to making each minute of my experience perfect. I am so happy with the results- you are an artist & your passion shows thru your work! I look to working with you for many years to come. Thank you!!!"
*Individual Results May Vary
What Is a Facelift?
A facelift is a surgical procedure designed to significantly improve the appearance of deep wrinkles, creases, jowls, skin laxity, and other signs of age along the face. By removing excess skin and fat as well as tightening any underlying musculature, the lower half of the face can be rejuvenated. Patients who wish to address signs of age around the eyes or brow may better benefit from blepharoplasty or a forehead lift.
What Is a Neck Lift?
Neck lift surgery is designed to remove excess or loose skin at the neck (commonly referred to as "turkey neck"). Typically, the platysma muscles that create prominent bands when grimacing are also tightened in order to achieve a nicely contoured, tighter neckline. In addition, this procedure can be used to eliminate fat deposits and smooth the skin of the neck for a more youthful, firmer appearance. Liposuction may be combined with a neck lift to achieve the best result. When performed alone, a neck lift will not alter the appearance of the face.
What Are the Benefits of Facelift and Neck Lift Surgery?
Your facelift and neck lift  will be customized by Dr. Yarinsky to address your personal cosmetic concerns. For most patients, the benefits of these combined procedures include:
Reduced facial wrinkling
Toned appearance of the face and neck
Youthful contouring of your face, neck, and chin for a more youthful profile
Enhanced jawline definition
More rested, less aged appearance
The best way to discover if you are a good candidate for a facelift or neck lift is to schedule a consultation with an experienced plastic surgeon who is also a member of ASAPS, a distinguished group of plastic surgeons who specialize in cosmetic surgery.  After a physical exam, reviewing your medical history, and discussing your goals, your candidacy for the procedure can be determined. Dr. Yarinsky can also recommend whether a facelift, neck lift, or combination of the two procedures is best suited for your needs. Keep in mind that a facelift does not correct skin surface changes from environmental/sun damage and/or from smoking. A skin surface treatment like laser skin resurfacing will help to significantly improve the aged skin's surface.
Who Is a Good Candidate for Facelift and Neck Lift Surgery?
Candidates for a facelift combined with neck lift surgery usually share many of the following concerns:
Face and neck wrinkles
Loose skin or lost muscle tone in the face and neck due to gravity effects of aging
Jowls
Deep creases between the base of the nose and corners of the mouth
Poor definition of the chin and neck
A tired, angry, or unhappy facial appearance due to signs of aging
Appearing older than your age
Real Patients, Real Results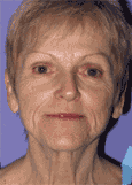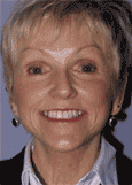 60 year old shown before and 4 months after a hairline forehead lift and face and neck lift who benefited from the rejuvenating effects by improving her neck and jaw line and elevating her brows and opening her eyes, producing a more rested awake look.
*Individual Results May Vary
How Is the Facelift / Neck Lift Procedure Performed?
A "mini facelift" involves removing only a rim of skin in front of the ear and closing. While it may cost significantly less than a formal or "real" facelift, the results simply don't last.  A formal facelift and neck lift procedure begins with incisions made within the hairline (or along the hair margin) above your ear, extending down around the earlobe and ending within or below the hairline behind the ear. The exact placement of the incisions will depend upon your customized treatment plan as designed and described to you by Dr. Yarinsky. Once the incisions are made, the skin is lifted, allowing Dr. Yarinsky to remove excess fat and tighten any loose musculature at the cheeks and neck. The skin is then redraped and any remaining, redundant skin is removed. Facelift and neck lift surgeries are outpatient procedures performed in Dr. Yarinsky's Joint Commission-accredited office facility with IV sedation or general anesthesia.
What Is Recovery from Facelift and Neck Lift Like?
Immediately following your facelift and neck lift, you can expect mild swelling, bruising, and soreness. Most experience only mild pain or discomfort which can be easily controlled with oral medication. Your head and neck will be wrapped in dressings, which are usually removed the next day at your first post-op visit. At that time, we can shampoo your hair. A wound drain, if used, is removed on the third day after surgery. Sutures are typically removed within 14 days. Within 2-3 weeks, bruising and swelling should significantly fade, allowing you to resume social activities. Make-up can be used to conceal any residual bruising. The results of your facelift and neck lift can be seen in four to six weeks or sooner, and you should continue to notice gradual improvements for up to a year.
How Much Does a Facelift / Neck Lift Cost?
Dr. Yarinsky customizes each facelift and neck lift procedure to suit the unique needs of the individual. Consequently, there is no fixed cost for either procedure. Factors that can influence the cost of your facelift or neck lift may include which procedure is performed, if they are combined, and the complexity of the overall surgery. When comparing prices, it is important to note that the experience of the plastic surgeon as well as the geographic location of the practice may impact the total cost. At our office, your fee quote includes use of our Joint Commission-accredited office surgery center, anesthesia/nursing staff, and all follow-up visits.  At the conclusion of your initial consultation with Dr. Yarinsky, he will provide you with a quote for your procedure. Some patients choose to take advantage of our plastic surgery financing options, which can offer qualifying candidates low monthly payment plans.
Complementary Procedures
You may enhance your results by combining a facelift or neck lift with an eyelid lift, brow lift, chin enlargement, nose reshaping (rhinoplasty), liposuction fat removal, or CO2 facial laser skin resurfacing. In many cases, these procedures can be done at the same time as your face lift and neck lift. To discover how combining these common plastic surgery procedures can transform and rejuvenate your appearance, please schedule a consultation with Dr. Yarinsky today.
Driving Directions
Many of Dr. Yarinsky's patients drive from nearby cities seeking his expertise in plastic surgery. For your convenience, we have provided directions to our office from the following locations:
Related Pages