Mommy Makeover
Moms are used to making sacrifices, but how they look does not have to be one of them. Although having a child can be one of life's greatest gifts, pregnancy and child-rearing can have a number of physical effects on your body that can be difficult to reverse. Mommy Makeover done by Dr. Steven Yarinsky is a customized procedure designed to address a number of aesthetic issues.
What Is a Mommy Makeover?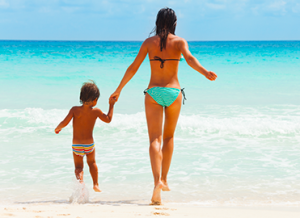 A Mommy Makeover is designed to restore your body to its pre-pregnancy figure as well as rejuvenate your face for a well-rested, energetic, and youthful look. By combining a number of popular plastic and cosmetic surgery procedures into a single treatment plan, Dr. Yarinsky can help you renew your appearance and enhance your self-esteem. If your breasts have taken on a saggy appearance, they can be lifted and breast skin can be tightened; your breasts can be enlarged with implants; your abdominal muscles and skin can be tightened for a flatter appearance; excess fat virtually anywhere on your body can be removed; and signs of age and exhaustion in your face can be reduced. Please contact Dr. Yarinsky for more information, or to schedule a Mommy Makeover consultation.
Wonderful from start to finish. So much time was spent with me on the consultation alone that I knew immediately after I would be choosing this office for my mommy makeover. The nurses were very knowledgeable and answered all of my questions. The proof is in the results. I feel and look incredible. Dr Yarinsky is the way to go!

Alicia Bronzell

October 03, 2017

12345
What Are My Mommy Makeover Options?
Each Mommy Makeover is customized to specifically address your personal needs and goals. Dr. Yarinsky will develop a treatment plan for you at your initial consultation. Some Mommy Makeover options include:
Breast Lift
Pregnancy and breastfeeding can often leave your breasts with volume loss and excess skin, causing a drooping or sagging appearance. Breast lift surgery removes the excess and tightens the remaining skin, lifting your breasts to a higher, "perkier" position. This procedure can also be performed with breast augmentation to add lost volume to your breasts in addition to provide a more youthful appearance.
Breast Augmentation
Breast augmentation can restore lost breast volume that often occurs after weight loss, pregnancy, or breast-feeding. Saline or silicone implants, which come in an array of shapes and sizes, can help you add more volume, improve the contour to your breasts, and improve symmetry. Some women choose to simply restore their breasts to their original size and shape while others choose to enhance the size of their breasts to create a more balanced, proportionate figure. We now use the latest Sientra® "Gummy Bear" implants which have the best warranty in the business!  For those women who don't want silicone gel, we provide Ideal® saline implants.
Tummy Tuck (Abdominoplasty)
Your abdomen is obviously the most changed area of the body after pregnancy. After months of being stretched and pulled, your abdominal muscles can become lax or torn, and excess skin can accumulate in the midsection that can be difficult to get rid of through diet and exercise. A tummy tuck is designed to tighten and repair your abdominal muscles, reduce excess skin, and smooth out the rest of the skin to give you a flatter, more toned-looking stomach and narrower waistline.
Liposuction
During pregnancy, you can accumulate fat in new areas of your body that does not disappear after childbirth. Even with a nutritious diet and regular exercise, this stubborn fat can persist. Liposuction is a versatile procedure that can be used to target excess fat at nearly any area of your body and face for a more contoured appearance. Common areas for liposuction include the abdomen, flanks, lower back, thighs, buttocks, knees, ankles, upper arms, neck, and chin.
Labiaplasty
Childbirth may cause the tissues of the labia to change in size or appearance. Labiaplasty can rejuvenate the genital area to improve physical comfort as well as improve the fit of bathing suits or tight pants. This procedure can also improve comfort during sexual intercourse for women who have experienced changes after childbirth.
Injectable Fillers for Facial Rejuvenation
Sleepless nights and busy days can have an effect on your facial features, making you appear older than you really are. Cosmetic injectables like Botox® Cosmetic and fillers can rejuvenate the face by reducing wrinkles and fine lines, adding volume to your lips and cheeks, and giving your face a more youthful, refreshed look.
What Is Mommy Makeover Recovery Like?
Recovery from Mommy Makeover procedures will depend on the cosmetic enhancement options performed. Patients who have surgical procedures should plan on recovery times of at least one to two weeks. Swelling and bruising will be present after cosmetic surgical procedures; however, pain and discomfort can be relieved with medication. Less invasive options such as skin care treatments and injectable facial rejuvenation typically have short periods of downtime. Dr. Yarinsky will discuss all of your options with you during your initial consultation, and help you determine which Mommy Makeover treatment options may be best for your goals.
My experience at Saratoga Springs Plastic Surgery was nothing short of excellent. Prior to my operation here, I had never had plastic surgery. The staff were extremely informative and courteous, making my stay easy and comfortable. Everyone maintained a professional attitude while keeping a relaxing atmosphere. I would highly recommend Dr. Steven Yarinsky and his exceptional staff to anyone seeking plastic surgery!
How Much Does a Mommy Makeover Cost?
Since each Mommy Makeover is customized to achieve the woman's personal goals, no two procedures are the same. As a result, a Mommy Makeover has a wide range of cost. After a thorough discussion of your goals at your consultation and your custom-tailored treatment plan is designed, Dr. Yarinsky will provide you with the price of your Mommy Makeover in the form of a written estimate. Variables that can influence the cost of the treatment plan include which individual procedures are combined, the overall complexity of the procedures, operating facility fees, and anesthesiologist fees. Your procedure is most commonly done right at our own accredited office surgery center which may provide you with savings over the hospital setting.   The experience of your plastic surgeon may also influence the cost of your Mommy Makeover. Many of our patients choose to take advantage of our plastic surgery financing options, which can provide low monthly payment plans with little to no interest.
Will My Mommy Makeover Scars Be Visible?
The location of the incisions used during a Mommy Makeover will vary from patient to patient depending upon their unique treatment plan. Dr. Yarinsky uses the latest techniques and technology to minimize the appearance of any post-operative scarring. For example, the incision for a tummy tuck can be made well below the waistline and easily covered with underwear or a bikini bottom. Breast surgery scars can be hidden around the circumference of the areolae or along the natural crease of the breast. In cases when breast surgery requires an incision that spans from the areola to the lower pole of the breast, a bra or bikini top can easily cover any scarring. Our office also provides you with specialized scar treatment using Biocorneum®. Dr.  Dr. Yarinsky will give patients a detailed description of what they can expect in regard to scarring at the end of their preliminary consultation.
Note
The specific risks and the suitability of this procedure for you can be determined only at the time of your consultation with Dr. Yarinsky. All surgical procedures have some degree of risk. Minor complications that do not affect the outcome occur occasionally. Major complications are unusual. Most people are very happy with the results, but no specific result can be guaranteed.
These procedures are most often done at our Joint Commission accredited office facility for your convenience, privacy, comfort, and often cost savings over the hospital setting.