Revision Breast Surgery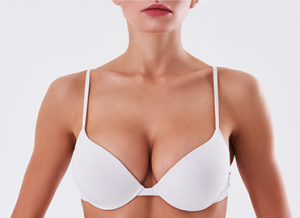 You may not be happy with the long-term results of a breast lift or augmentation. You may develop hardness or excessive rippling after breast augmentation. Over the years after your augmentation, natural breast drooping due to gravity effects or due to breast volume gains and losses with pregnancy or aging may position your nipples and areolae too low on your breast mound. Breast revision surgery can help you improve or correct the effects of a previous breast enhancement procedure and reverse and correct changes in your breasts that naturally occur with the process of aging or after pregnancy. The following is an overview of what is available with breast revision surgery. Please contact our Saratoga Springs plastic surgeon, Dr. Steven Yarinsky, for more information and to schedule a consultation.
Who is a Candidate?
Breast revision is ideal for candidates who are dissatisfied with the results from a previous breast enhancement surgery. This may be due to experiencing complications from their prior surgery that have caused an unnatural look or feel. Many patients seeking revision surgery desire a breast implant exchange, such as from saline to silicone implants or to a larger or smaller implant size. On the other hand, some individuals wish to have their breast implants completely removed.
Another common reason patients seek breast revision surgery is to alter the appearance of their breasts after age has caused unwanted changes. For example, breast droopiness or changes in nipple and areola position can occur with time. It is not uncommon for patients to develop larger or smaller breasts with age as well, which benefit from revision or touch-up surgery.
Working in healthcare often gives us an excuse to be critical of the care and treatment of patients. Dr. Yarinsky's expertise left no room for that. Please let him know that his professionalism and humanistic approach is greatly appreciated.
Reasons for Breast Revision Surgery
There are a number of reasons an individual may seek breast revision surgery. For some this may involve an implant exchange, going from a saline to silicone or silicone to saline implants, or complete implant removal. Others want to address droopiness or changes in breast shape or size that can occur with aging. Another purpose of the procedure can be to address complications that presented after the original breast augmentation. Capsular contracture, for instance, develops when scar tissue forms around the breast implant causing hard breasts. Saline breast implants, in particular, can rupture or deflate, causing a need for them to be replaced. While saline implant deflation is easy to see and feel, rupture of a gel implant can usually be identified with special studies using an ultrasound or MRI.
Another issue that can lead to an unfavorable breast appearance is thin tissue complications with initial breast augmentations. When an adequate amount of tissue is not covering the implant on the chest, the edges of the implant may begin to show, or rippling of the implant may develop. Rippling you can see or feel is most common when implants are positioned above the muscle. By seeking an expert plastic surgeon for breast revision surgery, patients can correct their thin tissue complications and achieve the natural look they desire. Solutions for rippling or an unnatural "feel" to the breasts may include exchanging the saline implants for silicone, which does not have the same risk of rippling. In addition, changing the implant's location from subglandular (beneath the breast) to submuscular (beneath the pectoralis muscle) may allow a thicker layer of padding or tissue to conceal the implant, which can help to create a more natural look and feel.
Intended Result
The purpose of breast revision surgery to enhance the appearance of your breasts is typically done to correct complications or dissatisfaction resulting from previous breast surgery. With over 25 years of experience in performing this procedure, Dr. Yarinsky is committed to helping you obtain results that match your goals for how you would like your breasts to look. Breast revision surgery can also help you to maintain the shape and size of their breasts over time as age begins to cause droopiness and low-positioned nipples.
Procedure Description
The specific details of your breast revision surgery will depend on the unique reasons you are considering the procedure. If you need your saline breast implants removed, this process will involve deflation of the implant, followed by its removal. This can often be accomplished through the original incisions. Since scar tissue is typically a cause of an unsatisfactory breast augmentation outcome, all or part of this hardened tissue will be removed from the area around the implants to promote a more natural look and feel. If you are undergoing an implant exchange, the new implants will be placed directly after removal of the original implants. Depending on your needs, you may need a breast lift, which involves skin tightening with repositioning of your nipple and areola complexes on your breast mounds.
Recuperation and Healing
Following breast revision surgery, some bruising and swelling will be present for at least a few days. Any pain or discomfort you experience throughout recovery can be controlled with medication. Patients who receive implant replacement during their revision will likely need to wear a surgical compression bra which we provide for a few weeks after surgery. Special care should be taken in the weeks following breast revision surgery to protect your breasts from harm during the healing process. To minimize the potential for any post-operative complications, heavy lifting and strenuous activities and swimming or submerging your breasts in water should be avoided for at least six weeks. More specific details regarding what you can expect during your recovery, as well as post-operative care instructions, will be discussed with you and provided in writing to you prior to your procedure.
Note
The specific risks and the suitability of this procedure for you can be determined only at the time of your consultation with Dr. Yarinsky. All surgical procedures have some degree of risk. Minor complications that do not affect the outcome occur occasionally. Major complications are unusual. Most people are very happy with their results, but no specific result can be guaranteed.
This procedure is done at our Joint Commission accredited office facility for your convenience, comfort, privacy and safety.