Breast Lift (Mastopexy)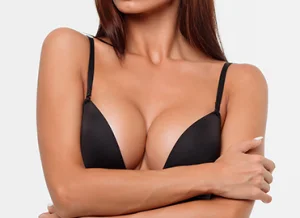 One of the most common effects of recent pregnancy, weight loss, gravity, and the natural aging process is the accumulation of loose excess skin in your breasts, causing them to take on a sagging or drooping appearance. Here at Saratoga Springs Plastic Surgery, PC, our board-certified plastic surgeon, Dr. Steven Yarinsky, can perform breast lift surgery to tighten the skin and rejuvenate your breasts with beautiful, natural-looking results. Please contact Dr. Yarinsky to schedule a consultation for breast lift surgery.
Thank you Dr. Yarinsky & Team! Dr Yarinsky you are an incredibly talented and gifted surgeon and your team is amazing!! Thank you to all of you for making this experience such a positive and life changing milestone in my like! Best Wishes,
What Is Mastopexy?
A breast lift is a commonly performed surgical breast enhancement procedure designed to reduce excess skin and reshape your breasts for a more vibrant and youthful appearance. Medically known as a mastopexy, a breast lift can effectively tighten and smooth the skin and reshape your breasts, resize and reposition the areolas, and lift your breasts to a firmer, "perkier" position. Mastopexy is not designed to increase the size of your breasts. If you wish to enhance your breast volume while simultaneously addressing sagging or drooping you may choose to combine a breast lift with a breast augmentation.
What Are the Benefits of Breast Lift Surgery?
Women choose breast lift surgery for a wide variety of reasons. The cosmetic goals of the average breast lift patient typically include:
An elevated, more youthful breast contour
Enhanced shape and firmness of the breasts
Smaller areolae located at a more pleasing height
Improved shape and size symmetry between the breasts
During the consultation, Dr. Yarinsky will perform a physical examination, review your medical history, and discuss your unique cosmetic concerns before determining your candidacy for a breast lift.
Who Is a Good Candidate for Breast Lift Surgery?
Most candidates for breast lift surgery have sagging or drooping breasts due to past pregnancies, genetics, significant weight fluctuations, or the natural aging process. Candidates also often have areolae (the pigmented area around the nipples) that are enlarged and positioned toward the lower poles of the breasts. Good candidates for breast lift surgery are in good overall health and able to avoid smoking tobacco products for at least 4-6 weeks before and after the procedure. The best way to determine your candidacy for breast lift surgery is to schedule a consultation with an experienced, board-certified plastic surgeon such as Dr. Yarinsky.
How Is the Breast Lift Procedure Performed?
Your breast lift procedure is typically performed as an outpatient procedure in Dr. Yarinsky's Joint Commission-accredited office facility using sedation or general anesthesia. Each breast lift is customized to meet the individual needs of the patient. The design of the incisions can vary, but most procedures include incisions around the areolae and may include an incision located in the crease under the breast. Common breast lift techniques include:
Crescent Mastopexy (Half-Moon Incision)
A crescent mastopexy is designed to slightly lift and reposition the areola. This breast lift technique involves the removal of a small, crescent-shaped section of skin above the areola. The incision is then closed, pulling the areola and surrounding skin higher on the breast. Dr. Yarinsky will carefully conceal the incision along the upper edge of the areola, often producing a nearly unnoticeable scar.
Peri-Areolar Mastopexy (Doughnut Mastopexy)
A peri-areolar mastopexy, sometimes referred to as a "doughnut mastopexy," involves the creation of a circular incision around the areola. A donut-shaped section of skin is then removed, the incision is closed, and the scar is concealed along the edge of the areola. This technique can be ideal for those looking to both tighten loose skin and reduce the size of the areola. Dr. Yarinsky uses a special technique—the "Hammond wagon wheel" areola reduction—which employs special sutures designed to prevent post-surgical stretching of the areola to provide long-lasting results.
"Lollipop" Mastopexy
A lollipop mastopexy, also known as a vertical breast lift, is employed when a patient has more excess skin and sagging than can be addressed with a crescent or doughnut incision. The technique takes its name from the "lollipop"-like shape of the incision: a circular incision is made around the areola, and a vertical, downward incision is made from the bottom of the areola towards the inframammary crease. Dr. Yarinsky will carefully place the incisions so that they can usually be easily concealed by your bra.
Wise Pattern Mastopexy (Anchor, "Inverted-T," or Full Mastopexy)
A wise pattern mastopexy—also called an anchor mastopexy, an inverted-T mastopexy, and a full mastopexy—is the most comprehensive breast lift technique. It involves essentially the same incision pattern as the lollipop mastopexy, with the addition of an incision along the inframammary fold beneath the breast. Though this technique is a more involved surgery with longer incisions, they will be carefully placed along the natural folds of the breast in order to effectively disguise and minimize the appearance of scars.
All breast lift techniques are designed to remove excess skin, reshape and reposition the areola, and give your breasts an overall more youthful, pleasing contour. Dr. Yarinsky will help identify which technique is best suited to your aesthetic goals during a consultation, and the entire breast lift procedure can usually be completed within three to four hours.
What Is Breast Lift Recovery Like?
Any initial discomfort from breast lift surgery can be easily controlled with oral medication. After surgery, you will wear a supportive bra with only light dressings placed over the incision lines. In contrast to many plastic surgeons, Dr. Yarinsky does not usually use wound drains with a mastopexy. Your provided bra is worn to hold dressings and maintain breast shape for 3-4 weeks. Sutures are usually removed by two weeks. Light activities may be started in 7-10 days, and at this time most patients return to work or their normal daily routines. Strenuous exercise and heavy lifting should be avoided for about 4-6 weeks. Avoid submerging your breasts in water with tub-bathing, swimming or hot tub use for two months.
My experience with Dr. Yarinsky and the entire staff at Saratoga Springs Plastic Surgery was amazing. Dr. Yarinsky goes above and beyond to explain procedures every step of the way. I didn't need to ask questions because he and his staff are so informative. The office has such a calm and inspiring atmosphere, it really make you feel instantly welcome and at ease. I have been more than happy with my results and it just keeps getting better with each day that passes. I would totally recommend Dr. Yarinsky to others in need of a breastlift or any other procedure. I look forward to a continued relationship with everyone at Saratoga Springs Plastic Surgery.

Jennifer Clark

June 30, 2016

12345
What Risks Are Associated with Breast Lift Surgery?
As with any surgical procedure, a breast lift does carry a small chance of complications, including poor wound healing, reactions to anesthesia, excess bleeding and/or swelling, and infection. However, Dr. Yarinsky is a board-certified plastic surgeon with decades of experience performing cosmetic procedures. He is also a member of several local and national-level organizations, including the Aesthetic Society (formerly the American Society for Aesthetic Plastic Surgery), which is the world's leading organization devoted to excellence and advancement in the field of cosmetic surgery. Our top priorities at Saratoga Springs Plastic Surgery, PC are patient safety, comfort, and satisfaction with the results. We work hard to ensure that our patients receive the most effective and up-to-date treatment available. Some of our additional safety measures include:
All of our procedures are performed at our Joint Commission-accredited on-site surgical facility. The Joint Commission vigorously evaluates medical facilities for quality and safety, so patients can rest assured that they are in good hands.
We carefully tailor a surgical plan for each patient to optimize their physical and cosmetic outcomes. We let our patients know what they can expect before, during, and after surgery.
Dr. Yarinsky follows up with all our patients for at least a year after cosmetic surgery in order to ensure their long-term success. We strive to be a knowledgeable and reliable resource for our patients long after their treatment is over.
Dr. Yarinsky will go more in-depth regarding the potential complications associated with your procedure during your consultation and at your preoperative visit. He will also provide you with detailed postoperative instructions. You should carefully follow these instructions in order to minimize your risk of having complications.
How Long Do Breast Lift Results Last?
Most patients who undergo breast lift procedures find that their results are long-lasting. By reducing the excess, inelastic skin that contributes to breast sag, the breasts can obtain a fuller, more youthful look. However, this does not stop gravity or the effects of the aging process. Over time, factors such as weight fluctuations, excessive UV light exposure, and the natural effects of aging can cause your breasts to begin sagging again. You can prolong the results of your procedure by regularly wearing a supportive bra, avoiding unprotected sun or suntan booth exposure to your breasts, abstaining from skin damaging habits like smoking, and avoiding major weight fluctuations.
Most of our breast lift patients are quite pleased with the results of their procedure, and they enjoy their results for many years. In some cases, patients may choose to have an additional breast lift to correct for the unavoidable effects of age and gravity. Dr. Yarinsky is happy to further discuss the longevity of your results and the steps that can be taken to prolong them during your consultation.
What Will My Breast Lift Scars Look Like?
The location(s) and prominence of your breast lift scars will depend on the type of incision used during the procedure. However, regardless of the incision type made, Dr. Yarinsky is committed to employing precise, thoughtful surgical methods in order to minimize the visibility of postoperative scarring. Scars can take a year or more to fade. You can further help reduce the prominence of your breast lift scars by adhering to Dr. Yarinsky's postoperative care instructions and applying doctor-approved and prescribed scar treatments once the incisions have fully healed. Your surgical plan will be specifically tailored to your unique needs, and Dr. Yarinsky will work with you in order to ensure that your scars are as well-disguised and camouflaged as possible.
How Much Does a Breast Lift Cost?
Dr. Yarinsky customizes each breast lift surgery, and as a result, there is no fixed price for the procedure. The cost can range from $3,900 to over $10,000 depending upon which procedure would be most effective for your individual needs. The total cost takes into account variables such as which incision technique is used, the overall complexity of the procedure, and fees associated with the anesthesia type, our surgical facility, and the surgeon's fee. When comparing the cost of breast lift surgery among various plastic surgeons, keep in mind that the experience of the plastic surgeon as well as the geographic location of the practice are typically factored into the price.
When it comes to having cosmetic surgery on your body or breasts, do not be lured by low prices. Rather than "price shop," it's always safer and better to choose an experienced, board-certified plastic surgeon with a great track record who you can trust will do their best to provide you with the results that you desire. Once you have ensured the quality of your surgeon, you can then save or finance for affordability. To benefit from a low monthly payment plan, you can take advantage of our plastic surgery financing options.
Breast Lift and Augmentation
If you have lost breast volume but have little droopiness (your nipples and areola are at or near a pleasing position on your chest), all you may need is a breast augmentation. However, if you have nipple and areola droopiness, have lost breast volume over time, and wish to enlarge your breasts, a combination breast lift and augmentation may better satisfy your needs. The breast lift with implants procedure can be done on the same day and can restore lost volume from breastfeeding, weight fluctuations, or the natural aging process while simultaneously lifting your breasts, nipples, and areolae to a more youthful position on your chest wall. A breast implant will also increase upper breast fullness for enhanced cleavage, something that a breast lift alone will not typically provide. Usually no additional incision is needed for breast implant placement when combined with a breast lift.
Complementary Procedures
In addition to breast augmentation or implant placement, common procedures that may enhance the result of a breast lift are breast reduction, liposuction, and tummy tuck surgery. Some patients choose to incorporate a breast lift with or without implants into a mommy makeover, which may include waistline reduction and other options for complete body shaping. During the consultation process, Dr. Yarinsky can recommend which procedure or combination of procedures will best achieve your goals.
Note
The specific risks and the suitability of this procedure for you can be determined only at the time of your consultation with Dr. Yarinsky. All surgical procedures have some degree of risk. Minor complications that do not affect the outcome occur occasionally. Major complications are unusual. Most people are very happy with the results but no specific result can be guaranteed.