BOTOX®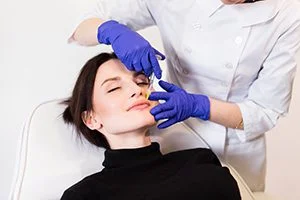 Have those youthful facial expressions turned into permanent creases and wrinkles? BOTOX® Cosmetic may be the answer. These creases and wrinkles in your brow and between the eyes at the bridge of the nose can be relaxed to allow your skin to be smooth again. BOTOX Cosmetic is also helpful with crow's feet, lip lines, and neckbands.
What is BOTOX Cosmetic?
BOTOX Cosmetic is a neurotoxin injectable, similar to Xeomin® and Dysport®, that is intended to reduce unwanted wrinkles and creases on the forehead, around the eyes and worry lines located between the brows. It can also be used elsewhere on the face and neck to relax tight muscles that can contribute to an aged appearance. By administering BOTOX injections into these small muscles, Dr. Steven Yarinsky can cause them to relax, reducing worry lines, crow's feet, laugh lines and other wrinkles. BOTOX can also be an effective treatment for hyperhidrosis, by reducing excessive perspiration in the underarms. *The effect usually lasts for three to six months, typically lasting longer when treating hyperhidrosis, and can be repeated when needed.
*Individual Results May Vary
How Does BOTOX Cosmetic Work?

BOTOX injections have been safely used to treat a variety of conditions for more than 20 years. FDA approved in April 2002, BOTOX Cosmetic temporarily smoothes facial wrinkles in the forehead, between your eyes and in the "crow's feet" areas (upper third of the face); it can also be used to treat neck muscle bands. Composed of botulinum toxin, BOTOX Cosmetic works by relaxing the muscles of facial expression. Once the resting tone of the treated muscles is weakened, the pull of the muscles relaxes and the overlying skin flattens. This approach is different than the other local treatments for the aging face. By relaxing the muscles, wrinkles naturally are lessened. BOTOX Cosmetic is not used on pregnant women.
Real Patients, Real Results
Before and after of Botox to glabella and forehead.
Individual Results May Vary
BOTOX Injections for Hyperhidrosis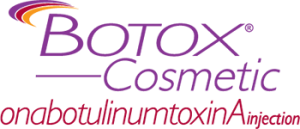 For all those who suffer from excess perspiration in their underarms (axillary hyperhidrosis), BOTOX has been found to be a real life (and clothing) saver! Although the treatments need to be repeated every three to five months to maintain the results, our patients have said "goodbye" to embarrassing sweat rings and stained clothing. Is the treatment worth it? Our happy patients give it "two thumbs up"!
What Does a BOTOX Injections Treatment Involve?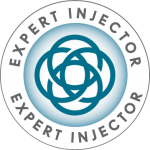 The BOTOX Cosmetic procedure is performed with your safety first in mind at our Joint Commission-accredited office facility. As an ExpertInjector™, Dr. Yarinsky personally performs all cosmetic injectable treatments at Saratoga Springs Plastic Surgery, PC. ExpertInjector is a group of highly skilled and trained plastic surgeons who specialize in administering facial fillers and BOTOX Cosmetic, which can provide a "liquid facelift" helping you look 5 or 10 years younger without surgery! Each physician member of Expertinjector.org is dedicated to providing you with an exceptional level of quality service and care to achieve the best possible results with your cosmetic injectable treatments—all done in a safe environment using FDA-approved injectables purchased directly from the manufacturers.
To perform BOTOX Cosmetic treatments, Dr. Yarinsky uses a tiny needle to place very small amounts of product into areas such as the small muscles between the brows, in the forehead, and at the comers of the eyes to treat the crow's feet. This causes those specific muscles to halt their function (be relaxed), thereby improving your appearance by softening active wrinkles. Depending on the areas being treated, 5-15 small injections may be required. Discomfort is minimal and lasts only a few seconds. For the rare patient who fears needles, we now offer "pain-free injectables" using nitrous oxide (laughing gas) to minimize discomfort throughout treatment.
What Can I Expect After I Get BOTOX Injections?
No down time is typically needed after getting BOTOX injections, allowing you to return to your normal schedule immediately after leaving our office. You should avoid strenuous exercise and avoid rubbing or putting pressure on the treated facial areas for the first 12 hours after your procedure, as this can cause the BOTOX to diffuse or spread to other adjacent areas leading to undesirable temporary weakness in other areas of the face.
How Long Does BOTOX Cosmetic Last?
The paralysis that occurs with BOTOX injections is temporary, gradually wearing off with time. On average, BOTOX Cosmetic lasts about two to six months before the smoothing results start to fade. At this point, patients may wish to return for a follow-up BOTOX Cosmetic treatment, prolonging its anti-aging effect. Those patients who maintain their treatments every three months actually prevent the formation and worsening of resting frown lines. So BOTOX truly can help prevent the signs of aging.
Are There Any Side Effects Associated with BOTOX Injections?
Occasionally, the tiny needle may puncture a small blood vessel during the injection and a small bruise may occur. The bruise can last a week or two and may require you to use cover-up makeup. There are no known generalized side effects to BOTOX Cosmetic. Temporary eyelid drooping or blurred vision may occur if not properly injected or if it diffuses or spreads to adversely affect other muscles.
If any of the botulism toxin reaches a facial muscle not being treated, partial weakness of that muscle may last for several months. (It is for this reason that you are requested not to massage the injected areas for 12 hours following injection.) In the event of an area of unwanted muscle weakness, the only "treatment" is to wait for the effect to wear off.
How Much Does BOTOX Cosmetic Cost?
The cost of BOTOX injections depend upon what and how many areas are treated and the strength of the localized muscles. Cost typically begins at a few hundred dollars, but the treatment fee can vary greatly based on the extent of a patient's needs. Factors such as how many units are needed and the number of areas being treated will influence how much you will pay for your BOTOX Cosmetic. During your consultation, our team will provide you with a detailed cost quote, going over the related fees to ensure you have a full understanding of what to expect. If you are interested in breaking your total cost into smaller, monthly payments, please ask our staff about our plastic surgery financing options.
BOTOX® in Combination with Facial Surgery
BOTOX Cosmetic injections can be combined with a face, neck, or eyelid lift and laser skin resurfacing for a very effective facial rejuvenation.
NOTE
The specific risks and the suitability of this procedure for you can be determined only at the time of your consultation with Dr. Yarinsky. All procedures have some degree of risk. Minor complications that do not affect the outcome occur occasionally. Major complications are unusual. Most people are very happy with the results but no specific result can be guaranteed. BOTOX Cosmetic is a registered trademark of Allergan, Inc.