BOTOX® Cosmetic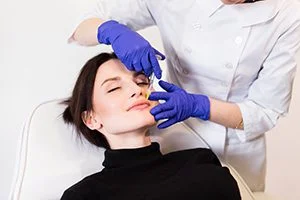 Are you seeing yourself more often than you ever imagined in "Zoom" meetings? Have those youthful facial expressions turned into permanent creases and wrinkles? BOTOX® Cosmetic may be the answer. These creases and wrinkles in your brow and between the eyes at the bridge of the nose can be relaxed to allow your skin to be smooth again. In fact, if you treat yourself before the wrinkle lines become permanent and maintain your treatments, you should never develop permanent wrinkle lines! BOTOX Cosmetic is also helpful with reducing or eliminating the appearance of crow's feet, lip lines, and neckbands. To save on Botox® treatments throughout the year Saratoga Springs Plastic Surgery is now offering a VIP Injectable program that provides members discounts on treatments and other benefits including same day appointments.
What is BOTOX Cosmetic?
BOTOX Cosmetic is a neurotoxin injectable, similar to Xeomin®, Dysport®, and Jeuveau®, that is intended to reduce unwanted wrinkles and creases on the forehead, around the eyes and worry lines located between the brows. It can also be used elsewhere on the face and neck to relax tight muscles that can contribute to an aged appearance. By carefully placing BOTOX injections into these small muscles, Dr. Steven Yarinsky can cause them to relax, reducing worry lines, crow's feet, laugh lines and other wrinkles. BOTOX Cosmetic can also reduce lip lines, providing a "lip flip" to increase fullness in the upper lip.
In addition, BOTOX Cosmetic can relieve the pain associated with TMJ syndrome and relax teeth clenching, teeth grinding, or bruxism by treating the masseter muscles. Treating these muscles can also reshape your face by reducing fullness in the lower cheeks and jawline. BOTOX can also be an effective treatment for hyperhidrosis by effectively and significantly reducing excessive perspiration in the underarms. *The effect usually lasts for three to six months, typically lasting longer when treating hyperhidrosis, and can be repeated when needed.
*Individual Results May Vary
How Does BOTOX Cosmetic Work?

BOTOX injections have been safely used to treat a variety of conditions for more than 20 years. FDA-approved in April 2002, BOTOX Cosmetic temporarily smoothes facial wrinkles in the forehead, between your eyes, and in the "crow's feet" areas (upper third of the face) by relaxing the muscles; it can also be used to treat neck muscle bands. When used to treat excessive underarm perspiration, BOTOX injections decrease or temporarily stop the production of sweat from the sweat glands for 6 to 12 months. Composed of botulinum toxin, BOTOX Cosmetic works by relaxing the muscles of facial expression. Once the resting tone of the treated muscles is weakened, the pull of the muscles relaxes and the overlying skin flattens. BOTOX Cosmetic is different than the other local treatments for the aging face. By relaxing the muscles, wrinkles naturally are lessened. BOTOX Cosmetic should not be used on pregnant women.
Real Patients, Real Results
Before and after of Botox to glabella and forehead.
Individual Results May Vary
What Are Preventative BOTOX Injections?
Some people prefer to attack wrinkles and lines before they become permanent. For this reason, many patients get BOTOX injections long before the wrinkles start to appear – a procedure often called "preventative BOTOX injections." Many of our younger patients have incorporated BOTOX injections into their beauty regimens. If you are over 18 and interested in BOTOX Cosmetic to prevent the signs of aging, Dr. Yarinsky would be glad to help you decide if now is the time to begin your BOTOX Cosmetic journey.
BOTOX Injections for Hyperhidrosis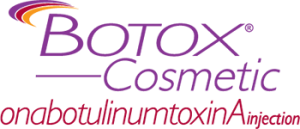 For all those who suffer from excess perspiration in their underarms (axillary hyperhidrosis), BOTOX has been found to be a real life (and clothing) saver! Although the treatments need to be repeated every three to five months to maintain the results, our patients have said "goodbye" to embarrassing sweat rings and stained clothing. Is the treatment worth it? Our happy patients give it "two thumbs up"!
Can BOTOX Injections Be Used for a Non-surgical Brow Lift?
In addition to smoothing facial wrinkles, BOTOX Cosmetic is often used to lift the brows to a more youthful position. Coined a "chemical brow lift", this non-surgical alternative to a surgical brow lift procedure works by relaxing the muscles that pull down on the eyebrows over time, which can cause an angry or sad appearance. By strategically placing BOTOX injections into the brow area, this can produce a more relaxed, alert and friendly facial appearance. Keep in mind, however, that a "BOTOX brow lift" is not right for everyone, and some patients may be better candidates for a surgical brow lift, as this can provide more dramatic improvement in sagging brows caused by loose forehead tissue.
What Does a BOTOX Injections Treatment Involve?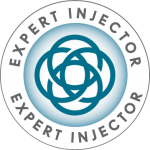 The BOTOX Cosmetic procedure is performed with your safety first in mind at our Joint Commission-accredited office facility. As an Expert Injector™, Dr. Yarinsky personally performs all cosmetic injectable treatments at Saratoga Springs Plastic Surgery, PC. Expert Injector is a group of highly skilled and trained plastic surgeons who specialize in administering facial fillers and BOTOX Cosmetic, which can provide a "liquid facelift" helping you look 5 or 10 years younger without surgery! Each physician member of Expertinjector.org is dedicated to providing you with an exceptional level of quality service and care to achieve the best possible results with your cosmetic injectable treatments—all done in a safe environment using FDA-approved injectables purchased directly from the manufacturers.
To perform BOTOX Cosmetic treatments, Dr. Yarinsky uses a tiny needle to place very small amounts of product into areas such as the small muscles between the brows, in the forehead, and in the skin located at the outer corners of the eyes to treat the crow's feet. This causes those specific muscles to halt their function (be relaxed), thereby improving your appearance by softening active wrinkles. Depending on the areas being treated, 5-15 small injections may be required. Discomfort is minimal and lasts only a few seconds. For the rare patient who fears needles, we now offer "pain-free injectables" using nitrous oxide (laughing gas) to minimize discomfort throughout treatment.
What Can I Expect After I Get BOTOX Injections?
No down time is typically needed after getting BOTOX injections, allowing you to return to your normal schedule immediately after leaving our office. You should avoid strenuous exercise and avoid rubbing or putting pressure on the treated facial areas for the first 24 hours after your procedure, as this can cause the BOTOX to diffuse or spread leading to undesirable temporary weakness in adjacent areas of the face.
How Long Does BOTOX Cosmetic Last?
The controlled paralysis that occurs with BOTOX injections is temporary, gradually wearing off with time. On average, BOTOX Cosmetic lasts about two to six months before the smoothing results start to fade. At this point, patients may wish to return for a follow-up BOTOX Cosmetic treatment, prolonging its anti-aging effect. Those who hate all frown lines typically seek retreatment every three months. Others prefer to wait four months before retreatment.
How Often Should I Get BOTOX Injections?
Those wanting to prolong the effects of their BOTOX injections typically return for touch-up treatments every three months, before its effect completely wears off. If retreatment is performed before the return of active wrinkle lines, the resting lines on your face should never worsen. In this fashion BOTOX Cosmetic truly helps to prevent the signs of aging!
Are There Any Side Effects Associated with BOTOX Injections?
Occasionally, the tiny needle may puncture a small blood vessel during the injection and a small bruise may occur. The bruise can last a week or two and may require you to use cover-up makeup. Dr. Yarinsky encourages you to notify our office if you have a bruise since a no-charge laser treatment of the bruise can hasten its disappearance. There are no known generalized side effects to BOTOX Cosmetic. Temporary eyelid drooping or blurred vision may occur if it is not properly injected or if it diffuses or spreads to adversely affect other muscles.
If any of the botulism toxin reaches a facial muscle not being treated, partial weakness of that muscle may last for several months. It is for this reason that you are requested not to massage the injected areas for 24 hours following injection. In the event of an area of unwanted muscle weakness, the only "treatment" is to wait for the effect to wear off.
How Much Does BOTOX Cosmetic Cost?
The cost of BOTOX Cosmetic typically begins at $13 per unit (after rebates from the manufacturer). The total cost of your treatment will depend upon what and how many areas are treated and the strength of the localized muscles. Treatment cost typically begins at a few hundred dollars for treating a single area, but the treatment fee can vary greatly based on the extent of a patient's needs. Factors such as how many units are needed and the number of areas being treated will influence how much you will pay for your BOTOX Cosmetic.
During your consultation, our team will provide you with a detailed cost quote, going over the related fees and rebates available to ensure you have a full understanding of what to expect. If you are interested in breaking your total cost into smaller, monthly payments, please ask our staff about our plastic surgery financing options.
Are There Any Alternatives to BOTOX Cosmetic?
Similar injectables to BOTOX Cosmetic include Xeomin, Dysport, and Jeuveau®. Dr. Yarinsky offers a variety of neurotoxins in addition to BOTOX Cosmetic in order to tailor treatment to the unique needs and preferences of the patient. While BOTOX Cosmetic is the most well-known of the different neurotoxin injectables, the alternative options are very similar in regard to benefits, cost, and downtime. During your consultation, Dr. Yarinsky will discuss the differences between each injectable, recommending the most appropriate option for your aesthetic goals. In some cases, a patient may be a better candidate for facial rejuvenation using fillers, which can smooth wrinkles by restoring depleted volume in other facial areas. More details about which injectable can offer the most benefits for your needs will be discussed during your consultation.
BOTOX® in Combination with Facial Surgery
BOTOX Cosmetic injections can be combined with a face, neck, or eyelid lift and laser skin resurfacing for a very effective facial rejuvenation.
Additional Frequently Asked Questions About BOTOX Cosmetic
Is BOTOX Cosmetic Safe?
When administered by a qualified surgeon or injector, BOTOX Cosmetic is considered very safe. Dr. Yarinsky is an Expert Injector™, which means he is highly skilled at performing injectable treatments such as BOTOX Cosmetic. Although cosmetic injectables can have side effects, most of these tend to be mild, are short-term, and only cause mild discomfort. BOTOX Cosmetic is not known to cause any permanent side effects on your face.
How Many Units of BOTOX Cosmetic Will I Need?
The number of injections, as well as the dosage, will depend on:
Your cosmetic goals
The size and location of the treatment area
The extent of your treatment needs – how many wrinkle lines you have
Rest assured that Dr. Yarinsky will determine the specific number and dosage during your consultation. If the right amount of BOTOX Cosmetic is used to treat the target area, the results will be longer lasting.
How Long After BOTOX Injections Can I Lay Down? What About Massaging the Treated Area? What About Exercising After BOTOX Cosmetic Treatment?
You can lay down anytime you want after BOTOX Cosmetic treatment since it stays where it is injected. However, it is important to avoid massaging the treated area to prevent spread or diffusion of the effect. In addition, strenuous exercise should be avoided for 12 hours after BOTOX Cosmetic treatment.
Will My BOTOX Cosmetic Results Look Natural?
BOTOX Cosmetic was designed to produce a more youthful look that is both enhanced and natural. That being said, Dr. Yarinsky prides himself on his attention to detail, only beginning treatment after he familiarizes himself with the shape and curves of your face. His goal is to simultaneously preserve and enhance your natural beauty – and he has succeeded time and time again!
NOTE
The specific risks and the suitability of this procedure for you can be determined only at the time of your consultation with Dr. Yarinsky. All procedures have some degree of risk. Minor complications that do not affect the outcome occur occasionally. Major complications are unusual. Most people are very happy with the results but no specific result can be guaranteed. BOTOX Cosmetic is a registered trademark of Allergan, Inc.