Chin and Cheek Reshaping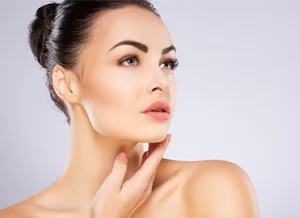 Chin and cheek reshaping surgery can work wonders for patients who would like to provide improved contour and balance among facial features. Chin augmentation can make the chin appear more prominent and give you a stronger profile, while cheek augmentation can add volume to the cheekbones for greater contour. Chin and/or cheek reshaping can do wonders for your entire facial aesthetic.
Please contact Dr. Steven Yarinsky for more information on chin and cheek reshaping, or to schedule a consultation at Saratoga Springs Plastic Surgery, PC.
Individual Results May Vary
I just wanted to say thanks again for taking such good care of me. The work you did on my face is amazing and I'm on my way to looking good as new! I am so grateful to you and your staff. All the best.
Chin Reshaping
Who is a Candidate?
You have a soft or receding chin.
Your chin looks too small in comparison with other facial features (such as your nose).
You desire a more prominent chin (a "stronger" chin profile).
Intended Result
An improved profile.
A more attractive jaw line that creates a better balance between your chin and other facial features, such as your nose.
I had a rhinoplasty/ chin implant procedure done with Dr. Yarinsky. The results are spectacular. Dr. Yarinsky is an artist. He and everyone at the office truly care about patient's comfort and satisfaction. In the pre-op room while getting ready to plan the final touches on the procedure, Dr. Yarinsky said to me "this is my favorite kind of procedure, it's an art." Now you can guess how much more confident that made me about having the procedure. Dr. Yarinsky is very honest and straight forward. The rest of the team is spectacular. I truly enjoyed working with everyone single one of them. If I were to go back in time and do it again, I would choose Dr. Yarinsky every single time.

George HQ

January 20, 2016

12345
Procedure Description
The procedure is done as an outpatient in Dr. Yarinsky's office facility using local or general anesthesia.
An incision is made inside your lower lip or under your chin through which a solid implant is placed, resting against your own chin bone.
In an alternative method called sliding genioplasty, a portion of the chin bone is moved forward.
Recuperation and Healing
A dressing taped over your chin remains in place for several days.
Discomfort rapidly resolves and is easily controlled with oral medication.
Swelling, tenderness, and possible chin or lower lip numbness gradually subside over a month or two.
Other Options
Liposuction of your neck, nose reshaping (Rhinoplasty), neck lift, laser skin resurfacing, or cheek implants may be done at the same time to enhance the results.
Cheek Enlargement
Who is a Candidate?
If you have a desire for more prominent cheek contour.
Facial asymmetry.
Intended Result
Procedure Description
The procedure is done as an outpatient using local with sedation or general anesthesia.
A small incision is made under the upper lip or in the lower eyelid and a biologically inert, pre-shaped implant is placed next to the bone.
Recuperation and Healing
There are usually no dressings.
Initial swelling is usually moderate and gradually disappears over a month or two.
Discomfort is mild to moderate and is controlled with oral medications.
Sutures in the mouth (if present) dissolve and do not need to be removed.
Sutures under the eyelid are removed in 4-5 days.
Other Options
Additional procedures that may enhance the result are other facial cosmetic procedures such as Facelift, Eyelid Lift, Brow Lift, Rhinoplasty, or Chin Augmentation.
Note
The specific risks and the suitability of this procedure for you can be determined only at the time of your consultation with Dr. Yarinsky. All surgical procedures have some degree of risk. Minor complications that do not affect the outcome occur occasionally. Major complications are unusual. Most people are very happy with the results but no specific result can be guaranteed.
These procedures are done at our Joint Commission accredited office facility.