Breast Surgery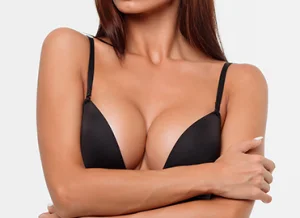 For a woman who for personal reasons feels her breast size is too small, too large or not contoured enough, cosmetic breast surgery can be the answer. The following links will take you to more detailed descriptions of breast enhancement procedures we offer at Saratoga Springs Plastic Surgery.
For further information or to arrange your private consultation with Dr. Steven Yarinsky, please contact our office today.
Breast Augmentation
Breast augmentation with silicone or saline breast implants is designed to add volume and contour to your breasts. This popular procedure can do wonders for the look of your breasts and give you a more youthful, sensual appearance.
Breast Lift (Mastopexy)
If your breasts are sagging or droopy, a breast lift (mastopexy) can help you. Breast lift removes excess skin from the breasts and tightens the remaining skin, giving your breasts a more "perky" and youthful appearance.
Breast Lift with Implants
A breast lift with implants (augmentation mastopexy) addresses sagging tissue and excess skin while enhancing breast volume. This combination procedure is ideal for patients who want to increase their bust size and raise their breasts to a more youthful position.
Breast Reduction
Women who have breasts that are too large for their body frame can often experience pain, discomfort, and self-consciousness. Breast reduction surgery can remove excess fat and skin from the breasts to provide better proportion to the body and improved comfort. If one breast is larger than another, it may be reduced to give you better volume symmetry.
Revision Breast Surgery
Revision breast surgery is often helpful if you would like to upgrade your breast implants to a different size or type of implant, or if you are dissatisfied with results from a previous surgery. Dr. Yarinsky can exchange or remove your implants, as well as address other issues that may be keeping you from attaining your original breast enhancement goals. If your breasts have grown larger with age or pregnancy, implant removal combined with breast lifts may give you the smaller perkier breasts that you want.
Breast Implant Removal
For those wanting to remove their breast implants, with or without replacement, Dr. Yarinsky offers breast explant surgery. This option can be highly beneficial for women who are no longer happy with the size or shape of their implants, experience a complication such as capsular contracture, believe they may have a rare case of breast implant illness, or simply want to go back to their natural breast appearance.
Breast Reconstruction
If you are born with breast shape, volume or size asymmetry, or develop breast deformity during puberty, breast reconstruction may be for you. Corrective surgery is available to fix inverted or excessively large prominent nipples or areola. If you have had breasts removed due to a mastectomy, lumpectomy, injury, or deformity you can restore what you have lost with breast reconstruction. Dr. Yarinsky offers a number of reconstruction techniques that can give you results that look more natural and enhance your self-esteem.
Male Breast Reduction (Gynecomastia)
Gynecomastia is a common condition among men that is characterized by an excess build-up of fat or firm tissue in the breasts and behind your nipples. Dr. Yarinsky offers confidential male breast reduction procedures in our office facility that can reduce excess fat, skin, or firm glandular tissue to give your chest a flatter appearance.
Note
The specific risks and the suitability of these procedures for you can be determined only at the time of your consultation with Dr. Yarinsky. All surgical procedures have some degree of risk. Minor complications that do not affect the outcome occur occasionally. Major complications are unusual. Most people are very happy with the results, but no specific result can be guaranteed.
This procedure is done at our Joint Commission accredited office facility.