Massage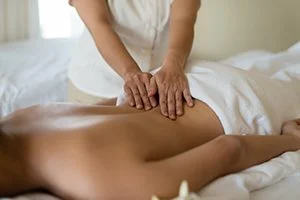 Come visit Kristi, our New York State Licensed Massage Therapist and Relax! Kristi is experienced and specially trained to perform a variety of massage techniques. We have found massage is great for minor aches and pains that accompany recuperation from body contouring and facial cosmetic procedures. Massage is also an excellent way for all adults to relax tight muscles and reduce the tension of daily life. If you already appreciate what massage can do for you, you owe it to yourself to visit Kristi. If you have never experienced the beneficial effect of massage, simply call our office weekdays 8am-4pm for an appointment. Destress, take a few minutes to relax with the soft music and massage and find how much more you can accomplish when you return to work or your daily activities!
Please contact our practice for more information on massage treatments.
About your therapist
Kristi Thalmann is a New York State Licensed Massage Therapist. Kristi's Massage is a unique and comfortable blend of techniques including Swedish, Deep Tissue, Shiatsu, and Neuromuscular Therapy. The physical and psychological benefits of Massage Therapy are significant. Her customized treatment strives to decrease your stress and tension, and increase range of motion and circulation. Do you have any special "tight" or "problem" areas? Simply let Kristi know and she will help you!
Before your massage
Although not essential, there are a few things you can do to prepare for your massage to help Kristi give you the most effective treatment.
Start by enjoying a warm shower at home to get your body into the "relax" mode
Be sure to clear your mind of distractions to get the most out of your massage. Shut off cell phones, pagers, etc.
Breathe deeply and keep talking to a minimum. A few deep breaths will go a long way while you are on the table! You'll find that you enjoy your massage more thoroughly when you let your body "let go".
Allow Kristi to "listen" to your body to find out what it needs. But remember to let her know if you are uncomfortable with pressure or have any concerns whatsoever! Remember that each an every massage therapist has their own style. Your massage today may be different than your last or your next one.