Massage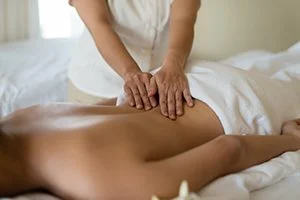 Massage therapy uses different pressures and techniques to improve health concerns or enhance overall wellness. Our New York State Licensed Massage Therapist, Kristi Thalmann, is experienced and specially trained to perform a variety of massage techniques. We have found massage is great for minor aches and pains that accompany recuperation from body contouring and facial cosmetic procedures. Massage is also an excellent way for all adults to relax tight muscles and reduce the tension of daily life.
If you already appreciate what massage can do for you, you owe it to yourself to visit Kristi. If you have never experienced the beneficial effect of massage, simply call our office at (518) 527-0835 for an appointment. Destress, take a few minutes to relax with the soft music and massage and find how much more you can accomplish when you return to work or your daily activities!
Please contact our practice for more information on massage treatments.
What Are the Benefits of Massage Therapy?
Studies have shown that massage therapy can provide a wide range of benefits for patients with varying needs. While the advantages of getting a massage will be individual to each person, you can expect the following during and after your session:
Cause you to relax and feel overall less stressed
Offer relief from muscle pain, tightness, and soreness
Improve circulation and help you feel more energized
Give your immune system a boost
Some of our patients have also reported their sessions have helped them control anxiety, headaches, nerve pain, injuries, and more. When you come in for your appointment, your Massage Therapists can help you understand what can be achieved through your custom massage.
What Type of Massage Should I Get?
Depending on the type of massage you choose, you can expect pressing or rubbing performed in light strokes or with deep pressure. At the Medical Spa of Saratoga Springs Plastic Surgery, we offer a variety of different massage therapy types to suit every need — from Swedish and deep massage to a soothing stress relief massage and foot reflexology. Our menu offers an option for virtually every need, whether you want a solo massage or have a partner you would like to join you in a couples or friends massage.
Swedish Massage
Long, sweeping strokes to calm your spirit and relax your muscles. Light to firm pressure.
Deep Tissue Massage
Targeted massage treatment with a good deal of pressure on those stubborn, achy muscles.
Anxiety Ease Massage
Feel your worries slip away with a 60-minute massage with our Anxiety Ease massage gel featuring notes of sweet orange, ylang-ylang and lemongrass which is formulated to help calm the tension of stress and anxiousness.
Head in the Clouds Massage
Back, scalp, neck, shoulder and face massage designed to soothe the body and the mind with our aromatic Swedish massage with extra special attention on your scalp. A warm compress infused with lavender essential oil (optional) on the shoulders and décolleté helps you unwind as your therapist focuses slow, relaxing strokes.
Classic Couples Massage
For those wanting to bring their significant other for a couples massage, we offer a classic session lasting either 75 or 105 minutes to help you both relax and unwind, while addressing any tight or achy spots where you would like relief.
Foot Reflexology
(Available with Gretta only.) Begins with steaming herbal hot towel foot wrap. This is relaxation like you have not experienced before. We work to address issues throughout your entire body through correlating acupressure points on your feet. You'll walk away feeling like you're floating on air! Best of all, there's no need to completely undress!
About Your Massage Therapist
Kristi Thalmann is a New York State Licensed Massage Therapist. Kristi's Massage is a unique and comfortable blend of techniques including Swedish, Deep Tissue, Shiatsu, and Neuromuscular Therapy. The physical and psychological benefits of Massage Therapy are significant. Her customized treatment strives to decrease your stress and tension, and increase range of motion and circulation. Do you have any special "tight" or "problem" areas? Simply let Kristi know and she will help you!
How Should I Prepare for My Massage?
Although not essential, there are a few things you can do to prepare for your massage to help Kristi give you the most effective treatment.
Start by enjoying a warm shower at home to get your body into the "relax" mode
Be sure to clear your mind of distractions to get the most out of your massage. Shut off cell phones, pagers, etc.
Breathe deeply and keep talking to a minimum. A few deep breaths will go a long way while you are on the table! You'll find that you enjoy your massage more thoroughly when you let your body "let go."
Allow Kristi to "listen" to your body to find out what it needs. But remember to let her know if you are uncomfortable with pressure or have any concerns whatsoever! Remember that each and every massage therapist has their own style. Your massage today may be different than your last or your next one.
How Often Should I Get a Massage?
To get the most benefits from massage therapy, it is recommended you undergo a massage at least once per month, if not more often. This allows you to regularly de-stress or manage health conditions as needed. Depending on your personal reasons for seeking massage therapy at our practice, you may want to establish a schedule with Kristi to help you maintain the positive effects of your regular visits. If you are undergoing massage as a way to improve pain or another health concern, you may want to come more frequently, whereas massage as a means of relaxation can be done as often as desired.
How Much Does a Massage Cost?
The cost of massage therapy will vary based on the type you choose to undergo and if it is part of a package. At our Saratoga Springs medispa, massages range from $60 for our more basic option to $310 for the longer couples massage. We invite you to contact us if you would like more information about the details of a massage and its corresponding cost at our practice, or you can visit our pricing page below to compare the cost of each type.