Plastic Surgeon Named Best In Saratoga Springs Region for Third Year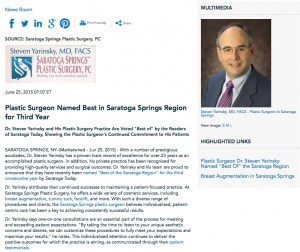 Dr. Steven Yarinsky and his plastic surgery practice are voted "Best Of" by the readers of Saratoga Today, showing the plastic surgeon's continued commitment to his patients.
Saratoga Springs, NY – With a number of prestigious accolades, Dr. Steven Yarinsky has a proven track record of excellence for over 25 years as an accomplished plastic surgeon. In addition, his private practice has been recognized for providing high-quality services and surgical outcomes. Dr. Yarinsky and his team are proud to announce that they have recently been named "Best of the Saratoga Region" for the third consecutive year by Saratoga Today.
Dr. Yarinsky attributes their continued successes to maintaining a patient-focused practice. At Saratoga Springs Plastic Surgery, he offers a wide variety of cosmetic services, including breast augmentation, tummy tuck, facelift, and more. With such a diverse range of procedures and clients, the Saratoga Springs plastic surgeon believes individualized, patient-centric care has been a key to achieving consistently successful results.
Dr. Yarinsky says one-on-one consultations are an essential part of the process for meeting and exceeding patient expectations. "By taking the time to listen to your unique aesthetic concerns and desires, we can customize these procedures to fully meet your expectations and maximize your results," he notes. This individualized attention continues to deliver the positive outcomes for which the practice is aiming, as communicated through their patient testimonials.
Dr. Yarinsky is particularly honored that he and his practice have once again received Saratoga Today's "Best Of" awards, as these distinctions are based off of the public's vote. The readers of Saratoga Today have continued to recognize the hard work of Dr. Yarinsky, which serves as a testament to the appreciation, respect, and trust the people of the Saratoga region place in him and his team at Saratoga Springs Plastic Surgery, PC.
About Steven Yarinsky, MD, FACS
Dr. Yarinsky earned his medical degree at SUNY Upstate Medical Center in Syracuse and went on to complete a five-year general surgery residency at Ohio State University Hospital, Columbus and Marshall University Medical School. He then underwent training in cosmetic and reconstructive surgery at the Medical College of Ohio in Toledo. In addition to serving as a Diplomate of the American Board of Plastic Surgery and a Fellow of the American College of Surgeons, Dr. Yarinsky is an active member of the American Society of Plastic Surgeons, the American Society for Aesthetic Plastic Surgery, and the Northeastern Society of Plastic Surgery. He is available for interview upon request.
­­­­To learn more about Saratoga Springs Plastic Surgery, PC, visit yarinsky.com or https://www.facebook.com/DrYarinsky/.
Contact:
Saratoga Springs Plastic Surgery, PC
7 Wells Street
3rd Floor
Saratoga Springs, NY 12866
(518) 583-4019
Rosemont Media
(858) 200-0044
www.rosemontmedia.com
Previous Post
Next Post