Announcing the IDEAL IMPLANT® Structured Saline Breast Implants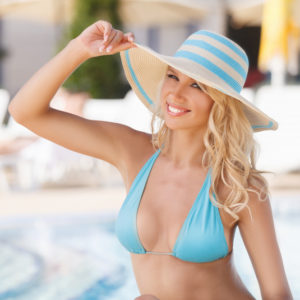 Dr. Steven Yarinsky is the first plastic surgeon in the Albany Capital Region to provide the IDEAL IMPLANT® Structured Breast Implants. The innovative design of these FDA-approved breast implants combines the health benefits of saline with the cosmetic and tactile appeal of a silicone-gel implant. The saline-filled IDEAL IMPLANT® is constructed from uniquely structured, multiple solid silicone shells, which provide increased form stability and better prevention against rupture. These shells of clear silicone are of decreasing sizes placed one inside another similar to a Russian nesting doll. In comparison to traditional saline-filled breast implants which have only one shell made of solid silicone, the IDEAL IMPLANT® was designed with the goal of reducing instances of rippling and providing a more natural feel.
While many women prefer the look and feel of silicone-gel and cohesive "gummy bear" breast implant models, the additional responsibility of undergoing regularly scheduled MRI studies to detect potential "silent" ruptures is a notable drawback. With the saline-filled IDEAL IMPLANT®, there is no additional study required beyond mammograms to maintain breast health. Any rupture of the IDEAL IMPLANT®, would be immediately visible as a deflation or "flat tire" and is considered harmless to the body. Furthermore, the incision required to place silicone breast models is typically larger on average than the incision needed for placement of the IDEAL IMPLANT®.
It is important to Dr. Yarinsky that he provides all of his breast augmentation patients with a wide variety of breast implant choices to deliver fully-customized results that meet their medical needs, cosmetic goals, and personal desires. If you are interested in breast augmentation, we encourage you to schedule a consultation with Dr. Yarinsky to discuss the best options for achieving the look you want.
Previous Post
Next Post