How Can I Fix Sagging Breasts?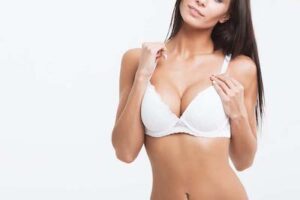 Breasts begin to droop and become saggy in response to a variety of factors, including pregnancy, breastfeeding, genetics, weight fluctuations, hormonal changes, and age-related skin laxity. Although breast drooping—also called ptosis—is quite common, it can be aesthetically displeasing and negatively impact a woman's figure and confidence. If you are dissatisfied with the shape, projection, or volume of your breasts, our Saratoga Springs plastic surgeon—Steven Yarinsky, MD—offers several procedures that can restore a more youthful breast appearance.
Breast Lift (Mastopexy)
A breast lift is designed to firm and tighten the skin of the breasts to elevate the position of the nipples and areolae (the pigmented areas located around the nipples) and improve breast projection. Excess skin is removed while the remaining tissues are tightened and "lifted" to a higher position on the chest wall. The areolas can also be repositioned or reduced in size, if needed, to improve horizontal symmetry and create a more balanced appearance. A breast lift is often the ideal choice for those who wish to address sagging skin but who are otherwise happy with the size of their breasts.
Breast Lift with Implants
A breast lift with implants combines a traditional mastopexy with breast augmentation in order to restore or add volume to the breasts while simultaneously addressing sagging or drooping skin. During your consultation, Dr. Yarinsky can help you select the optimal size and type of implant for your aesthetic goals. He fully customizes each procedure to produce the most proportionate and natural-looking figure enhancement possible. 
Breast Reduction
A breast reduction is typically recommended for those who struggle with overly large, heavy, and/or severely ptotic (droopy) breasts. This may also be done unilaterally to balance breasts that have different volumes. Whereas a breast lift is primarily designed to address excess skin, a reduction removes both excess skin and fatty tissues in order to lighten the breasts and reduce their overall size. For many women, a breast reduction can restore comfort and confidence by reducing breast sagging while creating a more balanced and proportionate appearance. 
Can I Fix Drooping Breasts Without Surgery?
While some sources claim that certain non-surgical treatments may be able to reduce breast sagging, the truth is that these methods rarely produce significant results—or any results at all. While some women may see minor improvements with weight loss, pectoral exercises, or collagen therapies, breast surgery remains the most effective and long-lasting solution for treating sagging breasts.
If you are interested in learning more about the breast surgery options at Saratoga Springs Plastic Surgery, PC or if you would like to schedule a consultation with Dr. Yarinsky, please contact us today.
Previous Post
Next Post