Saratoga Springs Plastic Surgeon Honored with Best of the Saratoga Region and Castle Connolly Top Doctor® Awards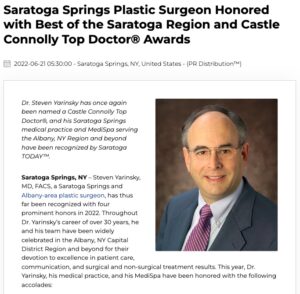 Dr. Steven Yarinsky has once again been named a Castle Connolly Top Doctor®, and his Saratoga Springs medical practice and MediSpa serving the Albany, NY Region and beyond have been recognized by Saratoga TODAY™.
Saratoga Springs, NY – Steven Yarinsky, MD, FACS, a Saratoga Springs and Albany-area plastic surgeon, has thus far been recognized with four prominent honors in 2022. Throughout Dr. Yarinsky's career of over 30 years, he and his team have been widely celebrated in the Albany, NY Capital District Region and beyond for their devotion to excellence in patient care, communication, and surgical and non-surgical treatment results. This year, Dr. Yarinsky, his medical practice, and his MediSpa have been honored with the following accolades:
Castle Connolly Top Doctor® – Dr. Yarinsky has been named a Top Doctor in the Capital District for the 17th year in a row. This extremely selective award is determined first by a nomination from peers in the medical field and then by a research team of distinguished health professionals, who evaluate the history, reputation, hospital affiliations, certifications, and career milestones of each candidate.
"Best in Plastic Surgery" by Saratoga TODAY™ – Voters have declared Saratoga Springs Plastic Surgery, PC the best plastic surgery practice for the 10th consecutive year. Saratoga TODAY™'s "Best Of" issue is released annually to celebrate the best businesses, services, and practices in the Saratoga Region. Winners play a large part in helping the community function and flourish.
"Best Spa" by Saratoga TODAY™ – Saratoga Springs MediSpa, out of which Dr. Yarinsky and his staff offer a variety of laser, body, face, and skin care treatments, has been voted the "Best Spa" in Saratoga. Dr. Yarinsky is exceptional in the administration of injectables and dermal fillers, even having been named the only Albany Capital District Region "Expert Injector" by NewBeauty magazine.
"Best Massage" by Saratoga TODAY™ – In addition to being named "Best Spa," Saratoga Springs MediSpa has also been recognized for its top-quality massages. Their massage therapists are trained in various advanced massage techniques to relax muscles, treat aches and pains, and relieve stress and anxiety.
Dr. Yarinsky says that receiving these honors has been both humbling and inspiring. The respect and recognition from patients and medical professionals only reinforce his and his team's ongoing commitment to providing patients with the highest-quality standard of care.
About Steven Yarinsky, MD, FACS
Board-certified plastic surgeon Steven Yarinsky, MD, FACS is an alumnus of Dartmouth College and SUNY Upstate Medical Center, Syracuse. He received his five-year general surgery residency at Ohio State University Hospital, Columbus, and Marshall University Medical School before entering a two-year Cosmetic and Reconstructive Surgery residency training at the Medical College of Ohio. He is a member of The Aesthetic Society®, the American Society of Plastic Surgeons, the Northeastern Society of Plastic Surgeons, the New York Regional Society of Plastic Surgeons, and other prestigious boards and organizations. A Fellow of the American College of Surgeons and a Diplomat of the American Board of Plastic Surgery, Dr. Yarinsky oversees Saratoga Springs Plastic Surgery, PC and Saratoga Springs MediSpa, which offer cosmetic enhancement procedures such as breast augmentation, facelift surgery, body contouring treatments, non-surgical cosmetic treatments, and many other advanced options. He is available for interview upon request.
To learn more about Saratoga Springs Plastic Surgery, PC, visit yarinsky.com or facebook.com/DrYarinsky.
Contact:
Saratoga Springs Plastic Surgery, PC
7 Wells Street
Suite 303
Saratoga Springs, NY 12866
(518) 583-4019
Rosemont Media
(800) 491-8623
www.rosemontmedia.com
Previous Post
Next Post