The Difficult Problem of the Double Chin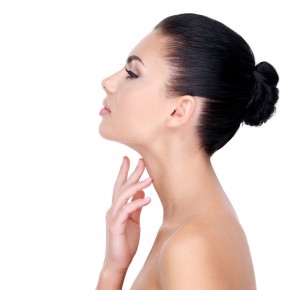 Are you unhappy with your double chin or excessive loose skin and fat in your upper neck? Is your jawline poorly defined? You are not alone. In a national survey, about 60% of those polled said they did not like their profile appearance due to excess submental (beneath the chin) fat. In some people this is a genetic or congenital problem that one inherits. In others, the process of aging, weight gain and fat redistribution causes the double chin. This is an area that can't be hidden by clothing and because it is exposed, it creates an older, out-of-shape appearance. Those who I see for this problem area want to lose the fat, tighten the skin of the upper neck to eliminate their embarrassment and to feel better about how they look. The rise of "selfies" and photos posted on Instagram and Facebook has made people much more aware of how others see them.
We offer multiple tools to correct the double chin including the fat melting injectable KYBELLA®, liposuction using the LipoPerfection® technique, truSculpt® radiofrequency fat melting, Ultherapy® ultrasound fat melting and skin tightening, as well as surgical neck lifts. In fact there are so many options the patient can be quite confused as to which would be best for them. All the more reason to seek consultation with a seasoned, experienced plastic surgeon who can match your concerns and expectations with the right procedures to provide you with the results that you desire. The "gold standard" result may be most rapidly achieved with liposuction to remove fat with or without surgical neck skin tightening. However, with that said, there are many people who have absolutely no desire to be operated upon, and there are those who don't have the ability to take time off from regular activities and from their job to recover. But they are accepting of other procedures that may take longer to reach a similar end result. KYBELLA® uses a bile acid injection to melt the fat beneath the chin and is best used for those people who have isolated fat deposits and excellent skin tone. Two to four injection sessions (taking 20-30 minutes each) spaced every 4-6 weeks are typically required. The final results may be seen several months after the last treatment. Fat melted by KYBELLA® will not return.
Ultherapy® uses ultrasound energy to "shrink wrap" the skin of the neckline, cheeks, face and décolletage and can boost the effects of KYBELLA®. On the other hand, truSculpt® uses heating with radiofrequency energy to melt fat and may be used to achieve a similar result to KYBELLA®. Typically, three or more monthly truSculpt® (no downtime) treatments are needed to reach a plateau of a result.
Confused with all the options? All the more reason to call and schedule a consultation with me to learn more about what would work best for your lifestyle to correct your double chin. My role is to explore all the options with you, to provide you with information so you can choose what treatment will most effectively allow you to reach your goal so you can look and feel your best!
Previous Post
Next Post