Saratoga Springs Plastic Surgeon Treats Abnormal Skin Pigmentation with New Laser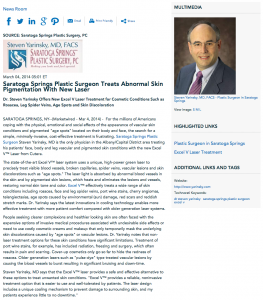 Dr. Steven Yarinsky Offers New Excel V Laser Treatment for Cosmetic Conditions Such as Rosacea, Leg Spider Veins, Age Spots and Skin Discoloration.
Saratoga Springs, NY – For the millions of Americans coping with the physical, emotional and social effects of the appearance of vascular skin conditions and pigmented "age spots" located on their body and face, the search for a simple, minimally-invasive, cost-effective treatment is frustrating. Saratoga Springs Plastic Surgeon Steven Yarinsky, MD is the only physician in the Albany/Capital District area treating his patients' face, body and leg vascular and pigmented skin conditions with the new Excel V™ Laser from Cutera.
The state-of-the-art Excel V™ laser system uses a unique, high-power green laser to precisely treat visible blood vessels, broken capillaries, spider veins, vascular lesions and skin discolorations such as "age spots." The laser light is absorbed by abnormal blood vessels in the skin and by pigmented skin lesions, which heats and eliminates the lesions and vessels, restoring normal skin tone and color. Excel V™ effectively treats a wide range of skin conditions including rosacea, face and leg spider veins, port wine stains, cherry angiomas, telangiectasias, age spots caused by environmental (sun) damage, red scars and reddish stretch marks. Dr. Yarinsky says the latest innovations in cooling technology enables more effective treatment with more patient comfort compared with older generation laser systems.
People seeking clearer complexions and healthier looking skin are often faced with the expensive options of invasive medical procedures associated with undesirable side effects or need to use costly cosmetic creams and makeup that only temporarily mask the underlying skin discolorations caused by "age spots" or vascular lesions. Dr. Yarinsky notes that non-laser treatment options for these skin conditions have significant limitations. Treatment of port wine stains, for example, has included radiation, freezing and surgery, which often results in pain and scarring. Cover-up cosmetics only go so far to hide the redness of rosacea. Older generation lasers such as "pulse-dye" type treated vascular lesions by causing the blood vessels to burst resulting in significant bruising and down-time.
Steven Yarinsky, MD says that the Excel V™ laser provides a safe and effective alternative to these options to treat unwanted skin conditions. "Excel V™ provides a reliable, noninvasive treatment option that is easier to use and well-tolerated by patients. The laser design includes a unique cooling mechanism to prevent damage to surrounding skin, and my patients experience little to no downtime."
Dr. Yarinsky has found patients to be very satisfied with the results. "One of my patients told me last week that before they received the Excel V™ treatment they were always self-conscious of the redness in their face and by their age spots. After the single treatment, they no longer needed to wear cover-up or camouflage cosmetics," says Dr. Yarinsky. "They said that the treatment was easy and surprisingly comfortable," he added.
Rather than a standard "boilerplate" treatment, Dr. Yarinsky says Excel V™ treatments are customized to suit each patient's unique skin condition, and adjustments are made for different lesion and vessel depths and sizes, from superficial blemishes to deep vascular scars.
About Steven Yarinsky, MD, FACS
Dr. Steven Yarinsky earned his medical degree from SUNY Upstate Medical Center in Syracuse and went on to complete a 5-year general surgery residency at Ohio State University Hospital in Columbus and Marshall University Medical School. Dr. Yarinsky then completed training in Plastic and Reconstructive Surgery at the Medical College of Ohio. He puts a high value on medical education, which is why he spends more than 150 hours every three years continuing to learn new techniques and technologies. Dr. Yarinsky is a member of professional organizations including the American Society of Plastic Surgeons, the American Society for Aesthetic Plastic Surgery, the Northeastern Society of Plastic Surgeons, and the Medical Society of the State of New York. He is available for interview upon request.
For more information about treating vascular skin conditions and "age spots", and Excel V™ laser system treatments, please contact Steven Yarinsky, MD. To learn more about Saratoga Springs Plastic Surgery, visit yarinsky.com or facebook.com/saratogaspringsplasticsurgery
Contact:
Saratoga Springs Plastic Surgery, PC
7 Wells Street
3rd Floor
Saratoga Springs, NY 12866
(888) 884-4448
(518) 290-1919
Rosemont Media
[email protected]
(858) 200-0044
www.rosemontmedia.com
Previous Post
Next Post