Saratoga Springs Plastic Surgery Practice Recognized For State-of-the-Art Standards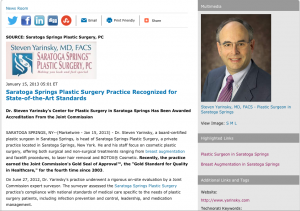 Dr. Steven Yarinsky's center for plastic surgery in Saratoga Springs has been awarded accreditation from the Joint Commission.
Saratoga Springs, NY – Dr. Steven Yarinsky, a board-certified plastic surgeon in Saratoga Springs, is head of Saratoga Springs Plastic Surgery, a private practice located in Saratoga Springs, New York. He and his staff focus on cosmetic plastic surgery, offering both surgical and non-surgical treatments ranging from breast augmentation and face lift procedures, to laser hair removal and BOTOX® Cosmetic. Recently, the practice earned the Joint Commission's Gold Seal of Approval™, the "Gold Standard for Quality in Healthcare," for the fourth time since 2003.
On June 27, 2012, Dr. Yarinsky's practice underwent a rigorous on-site evaluation by a Joint Commission expert surveyor. The surveyor assessed the Saratoga Springs Plastic Surgery practice's compliance with national standards of medical care specific to the needs of plastic surgery patients, including infection prevention and control, leadership, and medication management.
The Joint Commission is an independent, non-profit organization founded in 1951 with the mission of continuously improving health care for the public. The organization has evaluated and accredited more than 10,300 hospitals and home care organizations, as well as more than 6,500 other health care organizations in the United States.
Since 2001, the Joint Commission has issued office-based surgery standards as a way to evaluate medical practices performing invasive procedures. New York State has required accreditation for office-based surgery since 2009. According to the Joint Commission's website, surgical practices must meet all of the following criteria to be eligible for accreditation under the office-based surgery standards:
The organization or practice is composed of four or fewer licensed independent practitioners performing operative or invasive procedures.
The organization or practice must be physician owned or operated.
Invasive surgery services are provided to patients.
Local anesthesia, minimal sedation, moderate sedation or general anesthesia is administered.
Dr. Yarinsky considers Joint Commission accreditation the gold standard for providing safe, state-of-the-art patient care. According to the Saratoga Springs plastic surgeon, "Obtaining the accreditation is a team effort in which our entire staff participates." He believes the Joint Commission accreditation instills confidence in his plastic surgery patients and provides goals including safety, patient comfort, and environment of care for his practice to strive to reach in order to provide his patients with the best possible experience and results. Dr. Yarinsky's cosmetic surgery practice is the only plastic surgery office in the Capital District and upstate New York to achieve Joint Commission accreditation.
To learn more about accreditation from the Joint Commission, visit the Joint Commission's website at www.jointcommission.org/.
About Steven Yarinsky, MD, FACS
Dr. Steven Yarinsky is a graduate of Dartmouth College, earned his medical degree at SUNY Upstate Medical Center, Syracuse and is board-certified by the American Board of Plastic Surgery. He was selected as one of the "Top Plastic Surgeons" by Consumers' Research Council of America in 2010 and 2011, and by Plastic Surgery Practice Magazine as one of the "Best of 2012 Plastic and Cosmetic Surgeons." Dr. Yarinsky is available for interview upon request.
Previous Post
Next Post