Mommy Makeovers Increase at Saratoga Springs Plastic Surgery Practice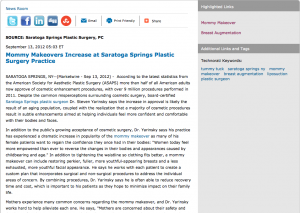 Saratoga Springs, NY – According to the latest statistics from The Aesthetic Society (formally the American Society for Aesthetic Plastic Surgery – ASAPS) more than half of all American adults now approve of cosmetic enhancement procedures, with over 9 million procedures performed in 2011. Despite the common misperceptions surrounding cosmetic surgery, board-certified Saratoga Springs plastic surgeon Dr. Steven Yarinsky says the increase in approval is likely the result of an aging population, coupled with the realization that a majority of cosmetic procedures result in subtle enhancements aimed at helping individuals feel more confident and comfortable with their bodies and faces.
In addition to the public's growing acceptance of cosmetic surgery, Dr. Yarinsky says his practice has experienced a dramatic increase in popularity of the mommy makeover as many of his female patients want to regain the confidence they once had in their bodies: "Women today feel more empowered than ever to reverse the changes in their bodies and appearances caused by childbearing and age." In addition to tightening the waistline so clothing fits better, a mommy makeover can include restoring perkier, fuller, more youthful-appearing breasts and a less exhausted, more youthful facial appearance. He says he works with each patient to create a custom plan that incorporates surgical and non-surgical procedures to address the individual areas of concern. By combining procedures, Dr. Yarinsky says he is often able to reduce recovery time and cost, which is important to his patients as they hope to minimize impact on their family life.
Mothers experience many common concerns regarding the mommy makeover, and Dr. Yarinsky works hard to help alleviate each one. He says, "Mothers are concerned about their safety and the discomfort they may experience with their breast enhancement and tummy tuck procedures. I perform these procedures in the safety, comfort and convenience of our Joint Commission-accredited office operating facility, and no hospitalization is needed. We use state-of-the-art anesthesia along with pain and nausea management to keep women as comfortable as possible. Most women tell me that their procedure and recuperation was easier than they had thought it would be."
Regardless of whether his patients undergo a combination of surgical procedures such as breast augmentation, breast lifts, tummy tuck and liposuction, or non-surgical procedures such as ZERONA® body contouring or BOTOX® Injections and other facial fillers to restore volume lost with aging, Dr. Yarinsky says his ultimate goal is to restore his patient's pre-pregnancy confidence:
"Although my initial patient consultation evaluates all areas of the face, breasts and body that may be rejuvenated, refined and restored, I focus on what area or areas the patient finds most bothersome. I never recommend a patient treat any area that is of no concern to her. Sometimes non-surgical procedures such as Endermologie® cellulite treatment, Ultherapy® facial skin lifting or Zerona® body shaping may be all a patient needs to get the results she wants. But after pregnancy, cosmetic surgery options are more often likely to give a woman the result that she desires. Breast augmentation and lift, combined with tummy tuck and liposuction to treat the waistline can be done on the same day, creating a balanced and exceptional result. In those patients, down-time is limited since there is only one recovery period for the combined procedures."
With the growing acceptance of plastic surgery and the significant increase in procedures performed, Dr. Yarinsky urges anyone considering a cosmetic enhancement procedure, no matter whether it is surgical or minimally-invasive, to consult with a board-certified plastic surgeon who has been elected a member of The Aesthetic Society (formally the American Society for Aesthetic Plastic Surgery – ASAPS). He says the certification process and society membership ensures that their doctor has the experience and expertise necessary to provide safe and effective treatment. He adds that although no results can ever be guaranteed, women have a better chance of achieving effective results by choosing a plastic surgeon who specializes in performing mommy makeovers. Additionally, Dr. Yarinsky states, "Women routinely tell me that the result of their mommy makeover boosts their self-esteem, and when they feel better about themselves, this has a positive effect on all aspects of their lives."
About Steven Yarinsky, MD, FACS
After earning his medical degree at SUNY Upstate Medical Center, Dr. Steven Yarinsky completed his general surgery residency at Ohio State University Hospital and Marshall University Medical School. He then completed a cosmetic and reconstructive plastic surgery residency at the Medical College of Ohio. Dr. Yarinsky is certified by the American Board of Plastic Surgery, and is a Fellow of the American College of Surgeons. He is also an active member of the American Society for Aesthetic Plastic Surgery, the American Society of Plastic Surgeons, and the Saratoga County Medical Society, and keeps up with the latest advancements in plastic surgery techniques and technology with a rigorous, ongoing program of continuing medical education.
Saratoga Springs Plastic Surgery, PC is located at 7 Wells St. 3rd Floor, Saratoga Springs, NY 12866, and can be reached at (518) 290-1919 or (888) 884-4448. Dr. Yarinsky and his team can also be found online at yarinsky.com or the Saratoga Springs Plastic Surgery Facebook page.
Previous Post
Next Post