Saratoga Springs Plastic Surgeon Wins "Best Of" Award From Saratoga Today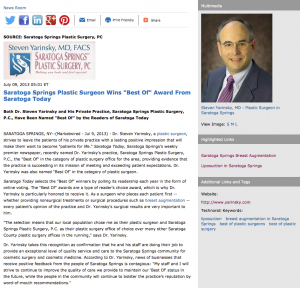 Both Dr. Steven Yarinsky and his private practice, Saratoga Springs Plastic Surgery, P.C., have been named "Best Of" by the readers of Saratoga Today.
Saratoga Springs, NY – Dr. Steven Yarinsky, a plastic surgeon, strives to leave the patients of his private practice with a lasting positive impression that will make them want to become "patients for life." Saratoga Today, Saratoga Springs's weekly premier newspaper, recently named Dr. Yarinsky's practice, Saratoga Springs Plastic Surgery, P.C., the "Best Of" in the category of plastic surgery office for the area, providing evidence that the practice is succeeding in its mission of meeting and exceeding patient expectations. Dr. Yarinsky was also named "Best Of" in the category of plastic surgeon.
Saratoga Today selects the "Best Of" winners by polling its readership each year in the form of online voting. The "Best Of" awards are a type of reader's choice award, which is why Dr. Yarinsky is particularly honored to receive it. As a surgeon who places each patient first – whether providing nonsurgical treatments or surgical procedures such as breast augmentation – every patient's opinion of the practice and Dr. Yarinsky's surgical results are very important to him.
"The selection means that our local population chose me as their plastic surgeon and Saratoga Springs Plastic Surgery, P.C. as their plastic surgery office of choice over many other Saratoga County plastic surgery offices in the running," says Dr. Yarinsky.
Dr. Yarinsky takes this recognition as confirmation that he and his staff are doing their job to provide an exceptional level of quality service and care to the Saratoga Springs community for cosmetic surgery and cosmetic medicine. According to Dr. Yarinsky, news of businesses that receive positive feedback from the people of Saratoga Springs is contagious: "My staff and I will strive to continue to improve the quality of care we provide to maintain our 'Best Of' status in the future, while the people in the community will continue to bolster the practice's reputation by word-of-mouth recommendations."
For prospective and new patients of Dr. Yarinsky's Saratoga Springs plastic surgery practice, he hopes the "Best Of" status will instill confidence in their choice of plastic surgeon as they consider the variety of procedures the practice offers, ranging from BOTOX® Injections to liposuction. Dr. Yarinsky knows his patients have many choices when planning their cosmetic treatments and he hopes this new award will assure patients they will achieve the personalized treatments and results they are looking for at Saratoga Springs Plastic Surgery, P.C.
About Steven Yarinsky, MD
Dr. Steven Yarinsky is a board-certified plastic surgeon and earned his medical degree from SUNY Upstate Medical Center before completing a five-year general surgery residency at Ohio State University Hospital and at Marshall University Medical School. Dr. Yarinsky completed his cosmetic and reconstructive surgery training at Medical College of Ohio before opening Saratoga Springs Plastic Surgery, P.C. – the only Joint Commission Accredited office-based cosmetic surgery center in the Capital District and Upstate New York. Dr. Yarinsky is available for interview upon request.
Previous Post
Next Post