Saratoga Springs Plastic Surgeon On Selecting the Right Breast Implant Size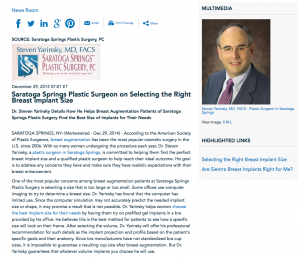 Dr. Steven Yarinsky details how he helps breast augmentation patients of Saratoga Springs Plastic Surgery find the best size of implants for their needs.
Saratoga Springs, NY – According to the American Society of Plastic Surgeons, breast augmentation has been the most popular cosmetic surgery in the U.S. since 2006. With so many women undergoing the procedure each year, Dr. Steven Yarinsky, a plastic surgeon in Saratoga Springs, is committed to helping them find the perfect breast implant size and a qualified plastic surgeon to help reach their ideal outcome. His goal is to address any concerns they have and make sure they have realistic expectations with their breast enhancement.
One of the most popular concerns among breast augmentation patients at Saratoga Springs Plastic Surgery is selecting a size that is too large or too small. Some offices use computer imaging to try to determine a breast size. Dr. Yarinsky has found that the computer has limited use. Since the computer simulation may not accurately predict the needed implant size or shape, it may promise a result that is not possible. Dr. Yarinsky helps women choose the best implant size for their needs by having them try on prefilled gel implants in a bra provided by his office. He believes this is the best method for patients to see how a specific size will look on their frame. After selecting the volume, Dr. Yarinsky will offer his professional recommendation for such details as the implant projection and profile based on the patient's specific goals and their anatomy. Since bra manufacturers have not standardized bra cup sizes, it is impossible to guarantee a resulting cup size after breast augmentation. But Dr. Yarinsky guarantees that whatever volume implants you choose he will use.
To provide the best possible augmentation results, Dr. Yarinsky will take different measurements throughout the patient's consultation to determine such details as the appropriate implant type, style, fill volume, overall implant width, height, projection and shape. Those women who desire more cleavage or upper breast fullness should choose a round rather than tear-drop shaped implant. He notes that their own breast skin and tissue thickness, for example, should be considered because a patient with thin breast and muscle tissue can benefit most from the "gummy bear" cohesive gel option of Sientra® or Allergan Natrelle® implants placing these beneath the muscle to avoid rippling and achieve the most natural looking and feeling results possible.
With the consistent popularity of breast augmentation, Dr. Yarinsky encourages those interested to do their research and seek a board-certified plastic surgeon who is a member of the American Society for Aesthetic Plastic Surgery. Be sure that whoever you choose specializes in breast enhancement and can provide you with before and after photos of their own patients who might match your anatomy and your desired result at your consultation so you can preview the results you might expect. By consulting with such a qualified professional, he says women can be confident they are receiving safe, high quality care and the best possible result.

About Steven Yarinsky, MD, FACS
After completing medical school at SUNY Upstate Medical Center, Syracuse, Dr. Steven Yarinsky studied in a five-year general surgery residency at Ohio State University Hospital, Columbus and Marshall University Medical School. He then trained for two years at the Medical School of Ohio, Toledo in Cosmetic and Reconstructive Surgery. Dr. Yarinsky is a member of numerous professional organizations, including the American Society of Plastic Surgeons, the American Society for Aesthetic Plastic Surgery, and the Northeastern Society of Plastic Surgeons. He is also a Fellow of the American College of Surgeons and a Diplomate of the American Board of Plastic Surgery. Dr. Yarinsky is available for interview upon request.
To learn more about Saratoga Springs Plastic Surgery, PC, visit yarinsky.com or https://www.facebook.com/DrYarinsky/.
Contact:
Saratoga Springs Plastic Surgery, PC
7 Wells Street
3rd Floor
Saratoga Springs, NY 12866
(888) 884-4448
(518) 290-1919

Rosemont Media
(858) 200-0044
www.rosemontmedia.com
Previous Post
Next Post