Saratoga Springs Plastic Surgeon Honored By Patients for His Compassionate Care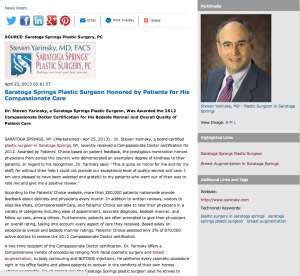 Dr. Steven Yarinsky, a Saratoga Springs plastic surgeon, was awarded the 2012 Compassionate Doctor certification for his bedside manner and overall quality of patient care.
Saratoga Springs, NY — Dr. Steven Yarinsky, a board-certified plastic surgeon in Saratoga Springs, NY, recently received a Compassionate Doctor certification for 2012. Awarded by Patients' Choice based on patient feedback, the prestigious nomination honors physicians from across the country who demonstrated an exemplary degree of kindness to their patients. In regard to his recognition, Dr. Yarinsky says: "This is quite an honor for me and for my staff, for without their help I could not provide our exceptional level of quality service and care. I am very pleased to have been selected and grateful to my patients who went out of their way to rate me and give me a positive review."
According to the Patients' Choice website, more than 200,000 patients nationwide provide feedback about dentists and physicians every month. In addition to written reviews, visitors to sites like Vitals, UCompareHealthCare, and Patients' Choice are able to rate their physicians in a variety of categories including ease of appointment, accurate diagnosis, bedside manner, and follow up care, among others. Furthermore, patients are often prompted to give their physicians an overall rating, taking into account every aspect of care they received. Based solely on exceptional overall and bedside manner ratings, Patients' Choice selected only 3% of 870,000 active doctors to receive the 2012 Compassionate Doctor certification.
A two-time recipient of the Compassionate Doctor certification, Dr. Yarinsky offers a comprehensive variety of procedures ranging from facial cosmetic surgery and breast augmentation, to body contouring and BOTOX® injections. He performs every cosmetic procedure right in his office facility and allows patients to recover in the comforts of their own homes whenever possible. For all procedures, the Saratoga Springs plastic surgeon says he strives to ensure every patient visiting his practice is comfortable and relaxed from consultation to recovery. Ultimately, he notes that he will use his recent award as motivation to continually provide the most compassionate and effective care possible for his Saratoga Springs plastic surgery patients.
About Steven Yarinsky, MD
After graduating from medical school at SUNY Upstate Medical Center, Syracuse, Dr. Steven Yarinsky completed a five year general surgery residency at Ohio State University Hospital, Columbus and at Marshall University Medical School. He then went on to complete two years of training in cosmetic and reconstructive surgery at Medical College of Ohio. His private practice – Saratoga Springs Plastic Surgery – is the only Joint Commission Accredited office-based cosmetic surgery center in the Capital District and Upstate New York. Dr. Yarinsky is board-certified by the American Board of Plastic Surgery and has three times been selected as one of the "Top Plastic Surgeons" by Consumers' Research Council of America. He is available for interview upon request.
Previous Post
Next Post