Saratoga Springs Plastic Surgeon Given Top Doctor Award for 2021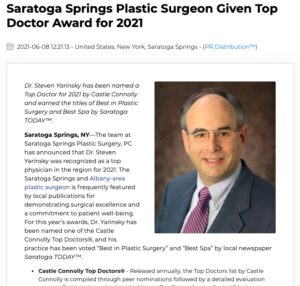 Dr. Steven Yarinsky has been named a Top Doctor for 2021 by Castle Connolly and earned the titles of Best in Plastic Surgery and Best Spa by Saratoga TODAY™.
Saratoga Springs, NY—The team at Saratoga Springs Plastic Surgery, PC has announced that Dr. Steven Yarinsky was recognized as a top physician in the region for 2021. The Saratoga Springs and Albany-area plastic surgeon is frequently featured by local publications for demonstrating surgical excellence and a commitment to patient well-being. For this year's awards, Dr. Yarinsky has been named one of the Castle Connolly Top Doctors®, and his practice has been voted "Best in Plastic Surgery" and "Best Spa" by local newspaper Saratoga TODAY™.
Castle Connolly Top Doctors® – Released annually, the Top Doctors list by Castle Connolly is compiled through peer nominations followed by a detailed evaluation process. Dr. Yarinsky maintains his title as a Top Doctor for the Capital District.
"Best in Plastic Surgery" – For the ninth consecutive year, Saratoga Springs Plastic Surgery, PC has been named the top plastic surgery practice in its annual "Best Of" issue, which is voted by the local community.
"Best Spa" by Saratoga TODAY™ – In addition to its status as "Best in Plastic Surgery," Dr. Yarinsky's practice was voted "Best Spa" in the Saratoga region. This signifies the team's medical spa as the fan favorite in the area. Dr. Yarinsky is thrilled to welcome Gretta Taglione as the new Medispa director. Gretta formerly owned and managed Spa Broadway in Troy for 13 years before joining Saratoga Springs Plastic Surgery, PC in 2021.
Through these awards as a top doctor, plastic surgery practice, and medical spa, Dr. Yarinsky says he is proud to be recognized as a highly rated and trusted surgeon in Saratoga and the Capital District. He notes that by receiving these honors through votes from fellow physicians and the local community, he is proud to be accomplishing his mission of providing high standards of care from both the medical and patient perspective.
Dr. Yarinsky is pleased to be included in the list of top services and businesses in the area. Having received these honors for 2021, he says he and his staff will continue their dedication to providing exceptional plastic surgery and medical spa care.
About Steven Yarinsky, MD, FACS
Board-certified plastic surgeon Dr. Steven Yarinsky has been practicing plastic surgery in the Albany and Saratoga Springs area for more than 30 years. He provides a comprehensive variety of cosmetic surgery procedures, from breast augmentation, tummy tuck, liposuction, nose reshaping and facial cosmetic surgery to non-surgical treatments like BOTOX® Cosmetic. Dr. Yarinsky is the only "Expert Injector" in the Albany/Capital District area certified by New Beauty Magazine, and personally performs all injectable treatments at his practice. Saratoga Springs Medispa provides a variety of non-surgical body contouring and facial rejuvenation services and massage treatments. Before establishing Saratoga Springs Plastic Surgery, PC, Dr. Yarinsky graduated from SUNY Upstate Medical Center in Syracuse. He completed his general surgery residency at Ohio State University Hospital in Columbus and Marshall University Medical School, and finished his cosmetic and plastic surgery residency training at the Medical College of Ohio. Dr. Yarinsky takes over 150 hours of continuing education every three years and maintains active memberships in several medical associations, which includes being a Fellow of the American College of Surgeons. He is available for interview upon request.
To learn more about Saratoga Springs Plastic Surgery, PC, visit www.yarinsky.com or facebook.com/DrYarinsky.
Contact:
Saratoga Springs Plastic Surgery, PC
7 Wells Street, 3rd Floor
Saratoga Springs, NY 12866
(518) 538-4019
Rosemont Media
(800) 491-8623
www.rosemontmedia.com
Previous Post
Next Post