Saratoga Springs Plastic Surgeon Details Key Aspects of Breast Implant Selection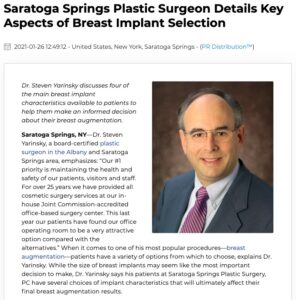 Dr. Steven Yarinsky discusses four of the main breast implant characteristics available to patients to help them make an informed decision about their breast augmentation.
Saratoga Springs, NY—Dr. Steven Yarinsky, a board-certified plastic surgeon in the Albany and Saratoga Springs area, emphasizes: "Our #1 priority is maintaining the health and safety of our patients, visitors and staff. For over 25 years we have provided all cosmetic surgery services at our in-house Joint Commission-accredited office-based surgery center. This last year our patients have found our office operating room to be a very attractive option compared with the alternatives." When it comes to one of his most popular procedures—breast augmentation—patients have a variety of options from which to choose, explains Dr. Yarinsky. While the size of breast implants may seem like the most important decision to make, Dr. Yarinsky says his patients at Saratoga Springs Plastic Surgery, PC have several choices of implant characteristics that will ultimately affect their final breast augmentation results.
Among the different breast implant features a patient will need to choose, Dr. Yarinsky provides an in-depth look at how four can alter the overall breast aesthetic.
Implant Type – Breast implants can be categorized as saline, silicone, or highly cohesive gel. Saline implants use a salt water solution to fill a silicone shell or envelope. Silicone implants use a solid silicone shell filled with a soft silicone gel. Highly cohesive silicone implants, also known as "gummy bear" implants, are composed of a highly cohesive, form-stable gel placed inside a solid silicone shell. The gummy bear implants tend to have less rippling and result in a more natural breast feel compared with saline or the old type of gel-filled implants. In addition to these, Dr. Yarinsky also offers the IDEAL IMPLANT®, which uses a saline or salt water solution to fill a structured silicone shell that has two compartments and baffles located within the outer shell to minimize or prevent rippling and maximize softness.
Implant Size – Choosing the right size of breast implants can feel overwhelming for many individuals, as patients typically want to increase their breast size while maintaining a natural appearance. Dr. Yarinsky says during this step of the planning process, patients should explain their cosmetic goals to their surgeon. The use of 3D, 4D and 5D dynamic imaging technology, such as the Crisalix system utilized at Saratoga Springs Plastic Surgery, PC can be an invaluable tool for selecting the ideal implant size. Patients choose the implant type and volume they desire using prefilled implants placed in a bra. Once the size is chosen, the Crisalix image can show a very realistic simulation and preview of the results using a 3D photo of the patient's own chest!
Implant Shape – To accommodate the varying needs and desires of different patients, breast implants may come in either round or teardrop shapes. Round implants can provide more upper pole fullness and have minimal risk of rotation. Teardrop-shaped implants are designed to look like the natural breast, with more projection toward the bottom of the implant. While teardrop implants are used more for breast reconstruction, most women who choose breast augmentation prefer the cleavage and upper breast fullness that is provided with round implants. Plus, a teardrop-shaped implant can potentially rotate after placement, possibly increasing the need for touch-up surgery.
Implant Placement – Breast implants can be placed over the pectoralis muscle (subglandular), underneath the muscle (submuscular), or partially beneath the muscle. Dr. Yarinsky finds that placing saline or silicone implants partially beneath the chest muscle can better conceal the implant, is less likely to exhibit visible implant rippling showing through the skin, and creates a more natural breast appearance.
When it comes to choosing the right characteristics for each patient's breast implants, Dr. Yarinsky says he takes a variety of measurements to determine the most appropriate options. These include evaluating skin quality, natural breast tissue thickness, considering pre-operative cup size and firmness, and measuring many chest proportions to properly plan a breast augmentation to achieve the optimum cosmetic result.
He notes that breast augmentation is not a "one-size-fits-all" procedure, and every patient requires a tailored surgical plan that takes their needs and desires into account to ensure they obtain the best possible outcome. To find the most qualified doctor, Dr. Yarinsky encourages women to seek a board-certified plastic surgeon and member of The Aesthetic Society who is experienced in performing breast augmentation.
About Steven Yarinsky, MD, FACS
With over 30 years of experience, Dr. Yarinsky is well-known for his expertise in cosmetic plastic surgery procedures, such as breast augmentation, breast lift surgery, tummy tuck surgery, labiaplasty, and more. In addition to providing surgical procedures, Dr. Yarinsky has a comprehensive medical spa, and is the only Albany/Capital District-area "Expert Injector" certified by New Beauty magazine. Before opening his private practice, Dr. Yarinsky completed his medical degree at SUNY Upstate Medical Center and a five-year general surgery residency at Ohio State University Hospital and Marshall University Medical School. He then completed his specialty residency training in Cosmetic and Reconstructive Surgery at the Medical College of Ohio. Dr. Yarinsky is a Diplomate of the American Board of Plastic Surgery, Fellow of the American College of Surgeons, and member of multiple other medical organizations. He is available for interview upon request.
To learn more about Saratoga Springs Plastic Surgery, PC, visit yarinsky.com or facebook.com/DrYarinsky.
Contact:
Saratoga Springs Plastic Surgery, PC
7 Wells Street, 3rd Floor
Saratoga Springs, NY 12866
(518) 538-4019
Rosemont Media
(858) 200-0044
www.rosemontmedia.com
Previous Post
Next Post