Saratoga Springs Plastic Surgery, PC Voted Best of Region for 7th Year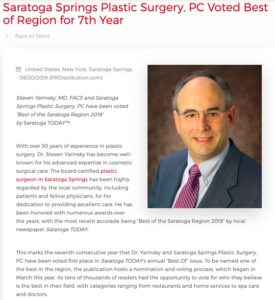 Steven Yarinsky, MD, FACS and Saratoga Springs Plastic Surgery, PC have been voted "Best of the Saratoga Region 2019" by Saratoga TODAY™.
Saratoga Springs, NY– With over 30 years of experience in plastic surgery, Dr. Steven Yarinsky has become well-known for his advanced expertise in cosmetic surgical care. The board-certified plastic surgeon in Saratoga Springs has been highly regarded by the local community, including patients and fellow physicians, for his dedication to providing excellent care. He has been honored with numerous awards over the years, with the most recent accolade being "Best of the Saratoga Region 2019" by local newspaper Saratoga TODAY.
This marks the seventh consecutive year that Dr. Yarinsky and Saratoga Springs Plastic Surgery, PC have been voted first place in Saratoga TODAY's annual "Best Of" issue. To be named one of the best in the region, the publication hosts a nomination and voting process, which began in March this year. Its tens of thousands of readers had the opportunity to vote for who they believe is the best in their field, with categories ranging from restaurants and home services to spa care and doctors.
Dr. Yarinsky believes these awards are a valuable resource for those in the community looking for highly trusted businesses to patronize. He is thrilled to be chosen for another year in a row in the Plastic Surgery category, and is grateful for those who shared their support for his practice. Dr. Yarinsky strives to exceed patients' expectations by providing the best possible plastic surgery care, whether an individual is seeking a surgical procedure like breast augmentation or mommy makeover, or a non-surgical treatment at his med spa like BOTOX® Cosmetic. He is committed to patients' comfort, safety, and overall well-being as he helps them achieve their desired outcome.
Dr. Yarinsky feels honored to once again be named the best plastic surgeon in the Saratoga Region by the many readers of Saratoga TODAY. He looks forward to continuing his mission of helping patients realize their aesthetic goals through high-quality plastic surgery care.
About Steven Yarinsky, MD, FACS
Dr. Steven Yarinsky has an extensive background of plastic surgery training and over 30 years of experience in cosmetic medicine and cosmetic surgery. After earning his medical degree from SUNY Upstate Medical Center, Syracuse, he completed a five-year general surgery residency at Ohio State University Hospital, Columbus and Marshall University Medical School. Dr. Yarinsky then trained at the Medical College of Ohio in a Cosmetic and Reconstructive Surgery residency. To stay abreast of the latest developments in plastic surgery, he completes over 150 hours of continuing education every three years. Dr. Yarinsky is a Diplomate of the American Board of Plastic Surgery, a Fellow of the American College of Surgeons, and a member of several other medical associations. In addition to being named in Saratoga TODAY's "Best Of" issue every year since 2013, Dr. Yarinsky has been repeatedly selected as a "Regional Top Doctor" by Castle Connolly, one of the "Top Plastic Surgeons" by Consumers' Research Council of America, and one of the "Best Plastic and Cosmetic Surgeons" in the U.S. by Plastic Surgery Practice Magazine. He is available for interview upon request.
To learn more about Saratoga Springs Plastic Surgery, PC, visit yarinsky.com or facebook.com/DrYarinsky.
Contact:
Saratoga Springs Plastic Surgery, PC
7 Wells Street, 3rd Floor
Saratoga Springs, NY 12866
(518) 538-4019
Rosemont Media
(858) 200-0044
www.rosemontmedia.com
Previous Post
Next Post