Saratoga Springs Plastic Surgeon Named 'Best Of' Saratoga Region for Second Year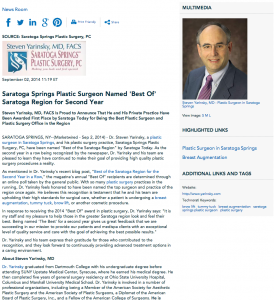 Steven Yarinsky, MD, FACS is proud to announce that he and his private practice have been awarded first place by Saratoga Today for being the best plastic surgeon and plastic surgery office in the region.
Saratoga Springs, NY – Dr. Steven Yarinsky, a plastic surgeon in Saratoga Springs, and his plastic surgery practice, Saratoga Springs Plastic Surgery, PC, have been named "Best of the Saratoga Region" by Saratoga Today. As the second year in a row being recognized by the newspaper, Dr. Yarinsky and his team are pleased to learn they have continued to make their goal of providing high quality plastic surgery procedures a reality.
As mentioned in Dr. Yarinsky's recent blog post, "Best of the Saratoga Region for the Second Year in a Row," the magazine's annual "Best Of" recipients are determined through an online poll taken by the general public. With so many plastic surgery practices in the running, Dr. Yarinsky feels honored to have been named the top surgeon and practice of the region once again. He believes this recognition is testament that he and his team are upholding their high standards for surgical care, whether a patient is undergoing a breast augmentation, tummy tuck, brow lift, or another cosmetic procedure.
In response to receiving the 2014 "Best Of" award in plastic surgery, Dr. Yarinsky says: "It is my staff and my pleasure to help those in the greater Saratoga region look and feel their best. Being named 'The Best' for a second year gives us great feedback that we are succeeding in our mission to provide our patients and medispa clients with an exceptional level of quality service and care with the goal of achieving the best possible results."
Dr. Yarinsky and his team express their gratitude for those who contributed to the recognition, and they look forward to continuously providing advanced treatment options in a caring environment.
About Steven Yarinsky, MD
Dr. Yarinsky graduated from Dartmouth College with his undergraduate degree before attending SUNY Upstate Medical Center, Syracuse, where he earned his medical degree. He then completed five years of general surgery residency at Ohio State University Hospital, Columbus and Marshall University Medical School. Dr. Yarinsky is involved in a number of professional organizations, including being a Member of the American Society for Aesthetic Plastic Surgery and the American Society of Plastic Surgeons, a Diplomat of the American Board of Plastic Surgery, Inc., and a Fellow of the American College of Surgeons. He is available for interview upon request.
To learn more about Saratoga Springs Plastic Surgery, visit yarinsky.com or facebook.com/saratogaspringsplasticsurgery
Contact:
Saratoga Springs Plastic Surgery, P.C.
7 Wells Street
3rd Floor
Saratoga Springs, NY 12866
(888) 884-4448
(518) 290-1919
Rosemont Media
[email protected]
(858) 200-0044
www.rosemontmedia.com
Previous Post
Next Post