Saratoga Springs Plastic Surgeon Minimizes Post-Surgery Discomfort with EXPAREL & OFIRMEV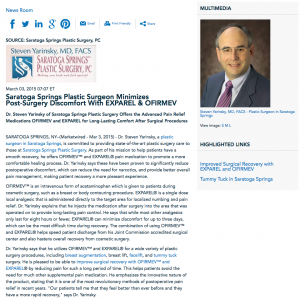 Dr. Steven Yarinsky of Saratoga Springs Plastic Surgery offers the advanced pain relief medications OFIRMEV and EXPAREL for long-lasting comfort after surgical procedures.
Saratoga Springs, NY – Dr. Steven Yarinsky, a plastic surgeon in Saratoga Springs, is committed to providing state-of-the-art plastic surgery care to those at Saratoga Springs Plastic Surgery. As part of his mission to help patients have a smooth recovery, he offers OFIRMEV™ and EXPAREL® pain medication to promote a more comfortable healing process. Dr. Yarinsky says these have been proven to significantly reduce postoperative discomfort, which can reduce the need for narcotics, and provide better overall pain management, making patient recovery a more pleasant experience.
OFIRMEV™ is an intravenous form of acetaminophen which is given to patients during cosmetic surgery, such as a breast or body contouring procedure. EXPAREL® is a single dose local analgesic that is administered directly to the target area for localized numbing and pain relief. Dr. Yarinsky explains that he injects the medication after surgery into the area that was operated on to provide long-lasting pain control. He says that while most other analgesics only last for eight hours or fewer, EXPAREL® can minimize discomfort for up to three days, which can be the most difficult time during recovery. The combination of using OFIRMEV™ and EXPAREL® helps speed patient discharge from his Joint Commission accredited surgical center and also hastens overall recovery from cosmetic surgery.
Dr. Yarinsky says that he utilizes OFIRMEV™ and EXPAREL® for a wide variety of plastic surgery procedures, including breast augmentation, breast lift, facelift, and tummy tuck surgery. He is pleased to be able to improve surgical recovery with OFIRMEV™ and EXPAREL® by reducing pain for such a long period of time. This helps patients avoid the need for much other supplemental pain medication. He emphasizes the innovative nature of the product, stating that it is one of the most revolutionary methods of postoperative pain relief in recent years. "Our patients tell me that they feel better than ever before and they have a more rapid recovery," says Dr. Yarinsky.
Dr. Yarinsky encourages anyone considering plastic surgery to consult with a board-certified plastic surgeon to learn about their options. By doing so, he says patients can expect an enhanced level of care, with advanced pain relief options like OFIRMEV™ and EXPAREL®.
About Steven Yarinsky, MD, FACS
After earning his medical degree from SUNY Upstate Medical University in Syracuse, Dr. Yarinsky completed an internship at Ohio State University College of Medicine followed by a total of five years of general surgery residency training at Ohio State University Hospital, Columbus and Marshall University Medical School. Dr. Yarinsky then completed two years in Cosmetic and Plastic Surgery fellowship training at the Medical College of Ohio at Toledo. He is affiliated with numerous professional organizations, including being a member of the American Society for Aesthetic Plastic Surgery and the American Society of Plastic Surgeons, a Diplomat of the American Board of Plastic Surgery, and a Fellow of the American College of Surgeons. He is recognized by Castle Connolly as a "Top Doctor" in his field of plastic surgery. Dr. Yarinsky is available for interview upon request.
To learn more about Saratoga Springs Plastic Surgery, PC, visit yarinsky.com or https://www.facebook.com/DrYarinsky/.
Contact:
Saratoga Springs Plastic Surgery, PC
7 Wells Street
3rd Floor
Saratoga Springs, NY 12866
(518) 583-4019
Rosemont Media
(858) 200-0044
www.rosemontmedia.com
Previous Post
Next Post