Saratoga Springs Plastic Surgeon Becomes Newest Member Of The NYRSPS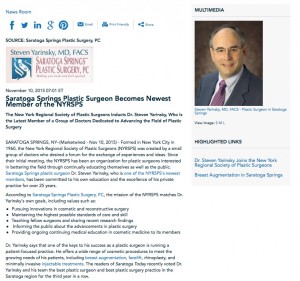 The New York Regional Society of Plastic Surgeons inducts Dr. Steven Yarinsky, who is the latest member of a group of doctors dedicated to advancing the field of plastic surgery.
Saratoga Springs, NY – Formed in New York City in 1960, the New York Regional Society of Plastic Surgeons (NYRSPS) was created by a small group of doctors who desired a forum for the exchange of experiences and ideas. Since their initial meeting, the NYRSPS has been an organization for plastic surgeons interested in bettering the field through continually educating themselves as well as the public. Saratoga Springs plastic surgeon Dr. Steven Yarinsky, who is one of the NYRSPS's newest members, has been committed to his own education and the excellence of his private practice for over 25 years.
According to Saratoga Springs Plastic Surgery, PC, the mission of the NYRSPS matches Dr. Yarinsky's own goals, including values such as:
Pursuing innovations in cosmetic and reconstructive surgery
Maintaining the highest possible standards of care and skill
Teaching fellow surgeons and sharing recent research findings
Informing the public about the advancements in plastic surgery
Providing ongoing continuing medical education in cosmetic medicine to its members
Dr. Yarinsky says that one of the keys to his success as a plastic surgeon is running a patient-focused practice. He offers a wide range of cosmetic procedures to meet the growing needs of his patients, including breast augmentation, facelift, rhinoplasty, and minimally invasive injectable treatments. The readers of Saratoga Today recently voted Dr. Yarinsky and his team the best plastic surgeon and best plastic surgery practice in the Saratoga region for the third year in a row.
Dr. Yarinsky also attributes this success to the focus he has maintained on his own continuing education. He dedicates more than 150 hours every three years to keeping abreast of the latest developments in plastic surgery technology and techniques in order to provide his patients with state-of-the-art care. Dr. Yarinsky highlights that participating in professional organizations such as the New York Regional Society of Plastic Surgeons keeps him engaged with his peers, gives him the opportunity to learn from the experiences of other skilled doctors in the field, and allows him to bring that knowledge back to his Saratoga Springs plastic surgery practice for the benefit of his patients.
About Steven Yarinsky, MD, FACS
After earning his medical degree at SUNY Upstate Medical Center in Syracuse, Dr. Yarinsky went on to complete a five-year general surgery residency at Ohio State University Hospital, Columbus and Marshall University Medical School. To further his skills, he completed additional training in cosmetic and reconstructive surgery at the Medical College of Ohio in Toledo. Recently inducted as a member of the New York Regional Society of Plastic Surgeons, Dr. Yarinsky also serves as a Diplomate of the American Board of Plastic Surgery, a Fellow of the American College of Surgeons, and an active member of many other professional organizations including the American Society of Plastic Surgeons, the American Society for Aesthetic Plastic Surgery, and the Northeastern Society of Plastic Surgery. Dr. Yarinsky is available for interview upon request.
­­­­
To learn more about Saratoga Springs Plastic Surgery, PC, visit yarinsky.com or https://www.facebook.com/DrYarinsky/.
Contact:
Saratoga Springs Plastic Surgery, PC
7 Wells Street
3rd Floor
Saratoga Springs, NY 12866
(888) 884-4448
(518) 290-1919
Rosemont Media
(858) 200-0044
www.rosemontmedia.com
Previous Post
Next Post