Castle Connolly Top Doctor® Named Best Plastic Surgeon & His Office Voted Best Spa & Massage in Saratoga Region for 2023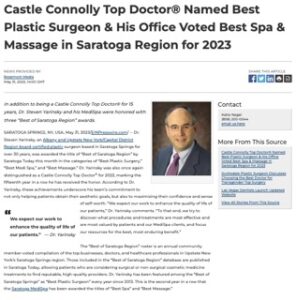 In addition to being a Castle Connolly Top Doctor® for 15 years, Dr. Steven Yarinsky and his MediSpa were honored with three "Best of Saratoga Region" awards.
Saratoga Springs, NY — Dr. Steven Yarinsky, an Albany and Upstate New York/Capital District Region board-certified plastic surgeon based in Saratoga Springs for over 30 years, was awarded the title of "Best of Saratoga Region" by Saratoga Today this month in the categories of "Best Plastic Surgery," "Best Medi Spa," and "Best Massage." Dr. Yarinsky was also once again distinguished as a Castle Connolly Top Doctor® for 2023, marking the fifteenth year in a row he has received the honor. According to Dr. Yarinsky, these achievements underscore his team's commitment to not only helping patients obtain their aesthetic goals, but also to maximizing their confidence and sense of self-worth. "We expect our work to enhance the quality of life of our patients," Dr. Yarinsky comments. "To that end, we try to discover what procedures and treatments are most effective and are most valued by patients and our MediSpa clients, and focus our resources for the best, most enduring benefit."
The "Best of Saratoga Region" roster is an annual community member-voted compilation of the top businesses, doctors, and healthcare professionals in Upstate New York's Saratoga Springs region. Those included in the "Best of Saratoga Region" database are published in Saratoga Today, allowing patients who are considering surgical or non-surgical cosmetic medicine treatments to find reputable, high-quality providers. Dr. Yarinsky has been featured among the "Best of Saratoga Springs" as "Best Plastic Surgeon" every year since 2013. This is the second year in a row that the Saratoga MediSpa has been awarded the titles of "Best Spa" and "Best Massage."
As a plastic surgeon and Medical Director of Saratoga Springs Plastic Surgery, PC, Dr. Yarinsky and his award-winning MediSpa team have provided the Albany region with top-notch aesthetic enhancement for over 30 years. With the many local, regional, and national recognitions bestowed upon the practice over the years, Dr. Yarinsky is confident in his ability to offer individuals who reside in Upstate New York, Vermont, western Massachusetts and in the Saratoga Springs region the absolute best in patient care.
Whether patients and clients are interested in cosmetic surgery or non-surgical rejuvenation, or cosmetic enhancement for their body, breasts or face, Dr. Yarinsky's office does it all.
About Steven Yarinky, MD, FACS
Dr. Steven Yarinsky is a board-certified plastic surgeon who has been recognized as a Castle Connolly Top Doctor® for 15 consecutive years — a distinction earned by less than six percent of plastic surgeons in the region. After graduating from Dartmouth College, Dr. Yarinsky received his Doctor of Medicine in Syracuse and went on to complete residencies in General Surgery as well as Plastic and Reconstructive Surgery. Dr. Yarinsky is notably a member of The Aesthetic Society, a Diplomate of the American Society of Plastic Surgeons (ASPS), and a Fellow of the American College of Surgeons (FACS), among his many other specialty society memberships. Throughout his more than 30-year career in practice, Dr. Yarinsky has won numerous awards and honors, including "Top Plastic Surgeon" by the Research Council of America, and is listed among the "Best Plastic and Cosmetic Surgeons" in the U.S. by Plastic Surgery Practice magazine. Dr. Yarinsky is available for interview upon request.
Contact:
Saratoga Springs Plastic Surgery, PC
7 Wells Street
Suite 303
Saratoga Springs, NY 12866
(518) 583-4019
Rosemont Media
(858) 200-0044
www.rosemontmedia.com
Previous Post