How Does SculpSure® Reduce Unwanted Fat?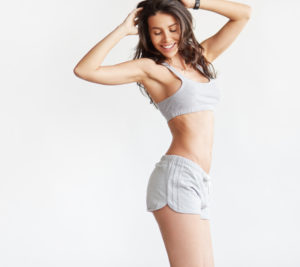 One of the most common cosmetic concerns among our patients at Saratoga Springs Plastic Surgery is stubborn, excess fat that creates a body contour bulge. Even those who eat a healthy diet and exercise regularly often still struggle with isolated pockets of fat in troublesome spots such as the abdomen, flanks, arms, thighs, knees, or back. With SculpSure® our patients can now reduce this unwanted fat without surgery to achieve a more contoured, sculpted figure.
SculpSure® is an FDA-cleared non-surgical laser treatment designed to reduce undesired fat deposits. Ideal SculpSure® candidates are already at or near their target weight and seek a final boost to attain their goals. The technology is FDA approved to sculpt the abdomen and flank areas, and can be used anywhere fat bothers you. SculpSure® treats up to four areas at once using separate laser applicators. Using heat energy, SculpSure® damages the targeted fat cells, without damaging overlying skin. The contents of the fat cells are then removed from the body through the natural metabolic process. Once these excess fat cells are broken down, patients can expect to see a more toned, athletic-looking silhouette. Two or more treatments are typically recommended to our Saratoga med spa patients to maximize results. To discover if SculpSure® can help you achieve your body contouring goals, please schedule a consultation with our board-certified plastic surgeon, Steven Yarinsky, MD, today.
Previous Post
Next Post