Christie Brinkley Uses Xeomin® and Ultherapy®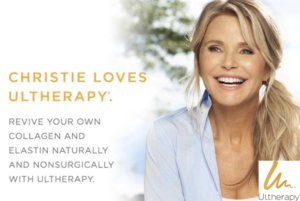 A smooth, unflawed complexion becomes difficult to naturally maintain as your age becomes a noticeable factor. Even 63-year-old supermodel Christie Brinkley, who is known to challenge aging before the camera, tells New Beauty Magazine how she's dabbled with non-surgical cosmetic treatments to touch up her already youthful complexion. As an icon in the fashion industry—where looks are particularly important—Christie relies on non-surgical treatments like Xeomin® wrinkle reduction (BOTOX® Cosmetic alternative) and Ultherapy®️ non-invasive ultrasound-based skin tightening. Both of these FDA-approved treatments are offered by Dr. Steven Yarinsky, one of the first board-certified plastic surgeons in the Capital District to use Xeomin® and Ultherapy®. He is one of the only area Xeomin® "Xperience" medical providers and the only "Expert Injector" recognized by New Beauty Magazine located in the Albany/Capital District region.
To diminish the appearance of frown lines between her eyebrows, Christie relies on Xeomin®, which is an injectable treatment designed to reduce dynamic wrinkles that develop around the face. To lift and tighten—thereby rejuvenating—the skin on her neck and chest, she uses Ultherapy®️, a treatment that uses ultrasonic high frequency sound waves to help eliminate wrinkles by tightening the skin. Christie explained to New Beauty Magazine that she still feels like herself, can move her eyebrows regularly, and still makes all her "same funny faces."
If you are considering non-surgical facial rejuvenation to achieve a more youthful appearance, Dr. Yarinsky recommends Xeomin® and other injectable treatments such as BOTOX®️ Cosmetic and Dysport® to soften signs of aging between the eyebrows, around the eyes, and on the forehead. Dr. Yarinsky also recommends Ultherapy® as a great option for patients considering a non-invasive, no-downtime alternative to a traditional facelift or neck lift. Many of our patients have used Ultherapy® to tighten the skin around their jawline as well as lift the skin on their face, brow, and neck.
If you are interested in discovering which of our non-surgical treatment options is the most appropriate for achieving your facial rejuvenation goals, contact our office to schedule a complimentary consultation with Dr. Steven Yarinsky. Dr. Yarinsky will provide you with a copy of his signature individualized "Facial Rejuvenation Treatment Plan."
Previous Post
Next Post