Nose Surgery (Rhinoplasty)
Surgery of the nose is one of the most common cosmetic procedures performed on patients of all ages, for both men and women. If you have had an injury to your nose, or you were blessed with a family nose you desire to change, cosmetic surgery of the nose will help you.
Read testimonials to hear what our patients have to say about their experience with Dr. Yarinsky.
Your appearance can be dramatically improved as the nose is refined to complement your facial features. Please contact Dr. Steven Yarinsky to schedule a consultation for rhinoplasty (nose reshaping surgery).
"Dr. Yarinsky and Staff, With heart full of thanks! I am very pleased with the results of my enhancement surgery. And I am even more thankful that I chose you as my doctor. Dr. Yarinsky, Holley, Scott and the rest of your staff are very professional and capable – I will not hesitate to return for future procedures or to recommend you for rhinoplasty (nose reshaping)."
*Individual Results May Vary
Who is a Candidate?
Your nose appears abnormal as a result of birth defects, injury, or disease.
Your nose has grown larger as you have aged and makes you look old.
Your nose is cosmetically unattractive or does not "fit" with other facial features.
Intended Result
A more attractive nasal shape. Nose in better proportion to your other facial features.
Real Patients, Real Results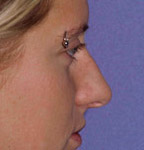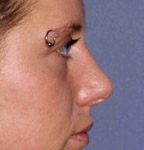 24 year old who desired a more refined nose tip, a narrower nose, and to reduce a mild "hump". Note that no scar is present across the columella (skin between the nostrils) since Dr. Yarinsky used incisions within the nostrils to reshape her nose.
*Individual Results May Vary
Procedure Description
Nose reshaping is done in Dr Yarinsky's office facility as an outpatient using sedation, local or general anesthesia.
STANDARD RHINOPLASTY: Incisions are made inside the nostrils. The nasal bones, cartilage, and soft tissues are reshaped to improve the external contour.
OPEN RHINOPLASTY: Frequently used for difficult or more involved nose reshaping. One external incision is made across the columella (strut between the nostrils). Bones, cartilage, and soft tissues are reshaped under direct vision.
TIP-PLASTY: If only the nasal tip is abnormal, it may be corrected with either a standard or external (open) approach.
Large nostrils are reduced using tiny incisions at the outer base of the nostrils.
Recuperation and Healing
An external cast or splint is placed on your nose. Your nose may be packed for up to five days. The cast or splint is usually removed in a week.
Discomfort is easily controlled with oral medication.
Most swelling and bruising subsides gradually over three weeks.
External sutures (if any) are removed within a week. Internal sutures dissolve.
*The 90% point of healing and result usually occurs at two months. *The final result is seen in about 1 year.
*Individual Results May Vary
Other Options
Additional procedures that may enhance your result are cheek and chin enlargements, and ear reshaping.
In older people, a facelift may be combined with nose reshaping.
If you need to improve breathing, correction of a deviated septum (septoplasty), or turbinate treatment may also be done at the some time. Large turbinates are the most common cause of breathing difficulty.
Note
The specific risks and the suitability of this procedure for you can be determined only at the time of your consultation with Dr. Yarinsky. All surgical procedures have some degree of risk. Minor complications that do not affect the outcome occur occasionally. Major complications are unusual. *Most people are very happy with the results but no specific result can be guaranteed.
This procedure is done at our Joint Commission accredited office facility.
Driving Directions
Many of Dr. Yarinsky's patients drive from nearby cities seeking his expertise in plastic surgery. For your convenience, we have provided directions to our office from the following locations:
Related Pages