Saratoga Springs Plastic Surgery, PC Accredited by Joint Commission for 6th Time
Saratoga Springs Plastic Surgery, PC announces its office-based surgical facility has been awarded accreditation from The Joint Commission for a sixth time.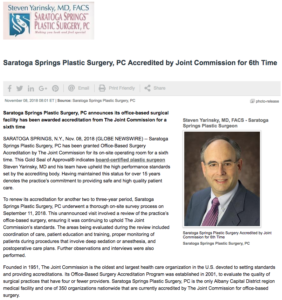 Saratoga Springs, NY– Saratoga Springs Plastic Surgery, PC has been granted Office-Based Surgery Accreditation by The Joint Commission for its on-site operating room for a sixth time. This Gold Seal of Approval® indicates board-certified plastic surgeon Steven Yarinsky, MD and his team have upheld the high performance standards set by the accrediting body. Having maintained this status for over 15 years denotes the practice's commitment to providing safe and high quality patient care.
To renew its accreditation for another two to three-year period, Saratoga Springs Plastic Surgery, PC underwent a thorough on-site survey process on September 11, 2018. This unannounced visit involved a review of the practice's office-based surgery, ensuring it was continuing to uphold The Joint Commission's standards. The areas being evaluated during the review included coordination of care, patient education and training, proper monitoring of patients during procedures that involve deep sedation or anesthesia, and postoperative care plans. Further observations and interviews were also performed.
Founded in 1951, The Joint Commission is the oldest and largest health care organization in the U.S. devoted to setting standards and providing accreditations. Its Office-Based Surgery Accreditation Program was established in 2001, to evaluate the quality of surgical practices that have four or fewer providers. Saratoga Springs Plastic Surgery, PC is the only Albany Capital District region medical facility and one of 350 organizations nationwide that are currently accredited by The Joint Commission for office-based surgery.
"As patients across the United States increasingly receive care in an office-based setting, Joint Commission accreditation provides office-based surgery organizations with processes contributing to improvements in patient care across a variety of areas," said Pearl Darling, MBA, executive director, Ambulatory Care Accreditation Program. "We commend Saratoga Springs Plastic Surgery, PC and its staff for achieving this pinnacle demonstrating a commitment to patient safety and quality. Your passion, dedication and tenacity can ultimately improve patient care. Thank you for your commitment to patient safety and entrusting The Joint Commission to assist you."
"Saratoga Springs Plastic Surgery, PC is thrilled to receive The Joint Commission's Gold Seal of Approval for a sixth time, confirming we are successfully accomplishing our goal of providing safe and effective surgical care to our patients," added Steven Yarinsky, MD, Medical Director. "Our staff continuously strives to improve its processes to ensure our patients receive the highest quality care possible."
The Joint Commission's office-based surgery standards are a subset of its ambulatory care standards, which are established by consulting with experts in health care and quality improvement as well as with patients. The combination of scientific literature and expert consensus aid health care organizations in their mission to effectively measure, evaluate, and enhance their care.
Saratoga Springs Plastic Surgery, PC
Steven Yarinsky, MD founded Saratoga Springs Plastic Surgery, PC in 1989. As a full service plastic and reconstructive surgery practice with an on-site medical spa, cosmetic surgery has been offered in-house since 1995, offering a convenient, private, and comfortable setting for patients to undergo procedures ranging from breast augmentation and facelift surgery to abdominoplasty and vaginal rejuvenation. Dr. Yarinsky chose The Joint Commission for accreditation of his office-based surgery center since it is the same organization that rigorously accredits most hospitals for safety standards. Saratoga Springs Plastic Surgery, PC was initially accredited in 2003 shortly after accreditation became available and has remained accredited since then.
To learn more about Saratoga Springs Plastic Surgery, PC, visit yarinsky.com or facebook.com/DrYarinsky/.
Contact:
Saratoga Springs Plastic Surgery, PC
7 Wells Street
Suite 303
Saratoga Springs, NY 12866
(518) 538-4019
Rosemont Media
(858) 200-0044
www.rosemontmedia.com
Previous Post
Next Post